In the enchanting tapestry of home adornments, the "Ganesha Brick Wooden Name Plate" emerges as a symbol of divine elegance and personalized charm. This transcendent piece of art isn't merely a nameplate; it's a sacred fusion of materials and spirituality, crafted to bring the benevolent presence of Lord Ganesha to your doorstep.
Sacred Fusion: Ganesha Brick Wooden Name Plate
Ganesha's Blessings in Wood and Brick: Carved with meticulous detail, the central figure of Lord Ganesha graces the nameplate, symbolizing auspicious beginnings and the removal of obstacles. The juxtaposition of premium wood and rustic brick not only enhances its aesthetic appeal but also serves as a harmonious blend of tradition and contemporary style.
Rustic Charm Meets Divine Grace: The combination of wood and brick creates a captivating texture, adding depth and character to the nameplate. It's not just a visual delight; it's a tangible representation of the journey towards spiritual elegance, where the earthly charm of brick converges with the divine grace of Ganesha.
Customized Identity: Personalize the nameplate with your family name, elevating it from a mere sign to a symbol of your unique identity. This customization adds a touch of exclusivity, making every arrival a recognition of your family's individuality, blessed by the divine energy of Ganesha.
Spiritual Threshold: As you cross the threshold adorned with the Ganesha Brick Wooden Name Plate, you're greeted not just by a piece of decor but by an aura of spirituality. It serves as a constant reminder that your home is under the divine protection of Lord Ganesha, infusing each moment with serenity and positive energy.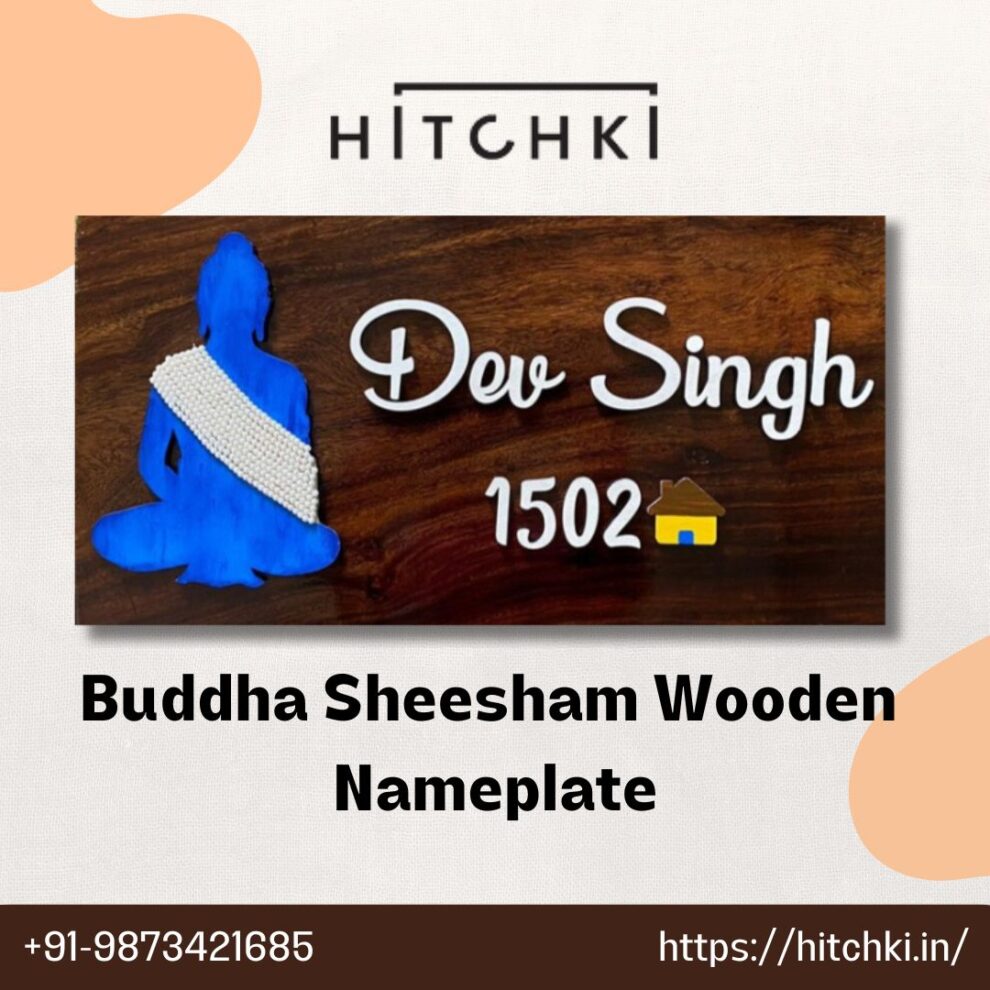 🏡 A Divine Tapestry:
Your home is a canvas where each element contributes to the overall masterpiece. The Ganesha Brick Wooden Name Plate weaves itself seamlessly into this tapestry, adding strokes of divine elegance and spiritual significance.
With each passing glance, you're not merely observing a nameplate; you're experiencing the fusion of textures, the personalized identity, and the spiritual essence that defines your home.
Conclusion:
Elevate your entrance into a sacred realm where earthly materials meet divine symbolism. The "Ganesha Brick Wooden Name Plate" isn't just an adornment; it's a statement of your spiritual journey and a visual representation of your home's sanctity.
Witness the transformation as your entrance becomes a portal to divine harmony. Every moment becomes an opportunity to embrace the blessings of Lord Ganesha, turning your living space into a haven of tranquility and elegance.
Welcome to Hitchki, a world where every detail is a brushstroke of sacred artistry, and every arrival is a journey into divine harmony. 🏡✨