3. Click on "I am a Vendor".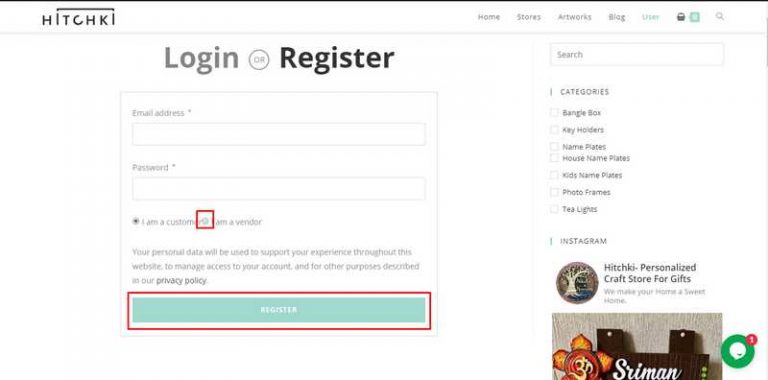 4. Fill up the details and click on Register button at the bottom
Now you are successfully registered as a Vendor.
2. Login with your vendor credentials.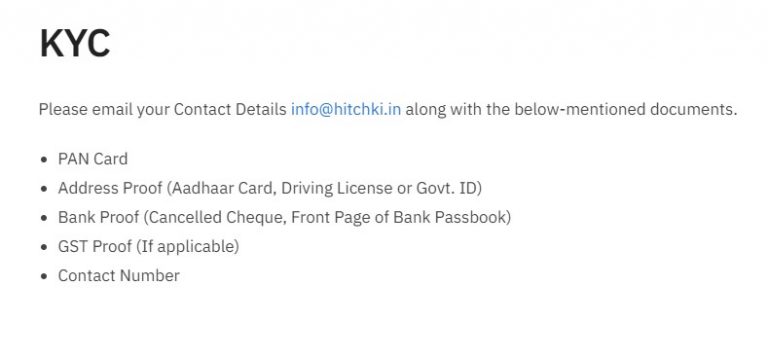 4. Send the required documents and your account will be activated.
In case you can't do that email us the required documents on
ruchi@hitchki.in
Once you have successfully submitted KYC, you can start selling.
2. Fill up the required details.
3. If the category of your is not available, select "Uncategorized".
4. Click "Create Product" and add other related information like SKU, etc.
5. Necessary moderation will be done before publishing the product by our technical team.​
KYC
Vendors will only be allowed to sell online once they submit their requisite information with document proofs. Account is subject to termination if the information provided is incorrect in any context. (Click Here for KYC)
Commission
The amount will be transferred to the vendors after deducting commission which could be upto 20% and GST of 18% on it i.e. = 23.6% subject to clearance on monthly basis (in first 10 days) as per mutual commitments.
Product Listing Guide
Product Image size should be in the ration of 4:3::Width:Height (Recommended size = 800px:600px).
Product Image names should be similar as your products names.
You can optimize your products with the help of this tool to resize/compress/rename your product images in bulk.
Download the the tool from here. (Click Here To Download)
Following these guide lines will help us to increase the visibility of your products for sales.
Fill important details in short description.
Fill all other information (maximum and unique you can) in the detailed description.
Write your brand name in starting of your product's name.
Make sure you add materials used, and size as the short description.
For more details or any related query please chat with us.
It'd be a pleasure to work together.