In the world of personalized decor, the "Buddha Sheesham Wood Nameplate" transcends ordinary labels. This isn't just a nameplate; it's a manifestation of tranquility and style. Crafted from the rich and exquisite Sheesham wood, it adds a touch of serenity to your home's entrance, making every arrival a moment of mindful elegance.
Zen Elegance: Buddha Sheesham Wood Nameplate
Buddhist Serenity: At the heart of this nameplate is a delicately carved Buddha, an embodiment of peace and mindfulness. The serene expression and intricate detailing make it more than just a nameplate; it's a spiritual touch that greets you and your guests with a sense of calm.
Sheesham Wood Craftsmanship: Crafted from Sheesham wood, known for its durability and rich grain patterns, the nameplate is not only a symbol of elegance but also a testament to the artistry of skilled craftsmen. The natural beauty of the wood adds warmth to your entrance.
Custom Zen: Personalize the nameplate with your family name, turning it into a unique statement of tranquility. It's not just a sign; it's an announcement of a mindful and serene living space, where each detail is an intentional step towards peace.
Mindful Arrival: Every time you enter your home, the Buddha Sheesham Wood Nameplate isn't just a visual treat; it's a reminder to leave the chaos of the outside world behind and step into a space of calmness. It sets the tone for a mindful arrival.
A Haven of Tranquility:
Your home is more than just walls and furniture; it's a sanctuary where you find peace. The Buddha Sheesham Wood Nameplate transforms your entrance into a haven of tranquility, where every detail is a reminder to live in the present moment.
With each glance at the nameplate, you're not just seeing your family name; you're witnessing a blend of style and mindfulness.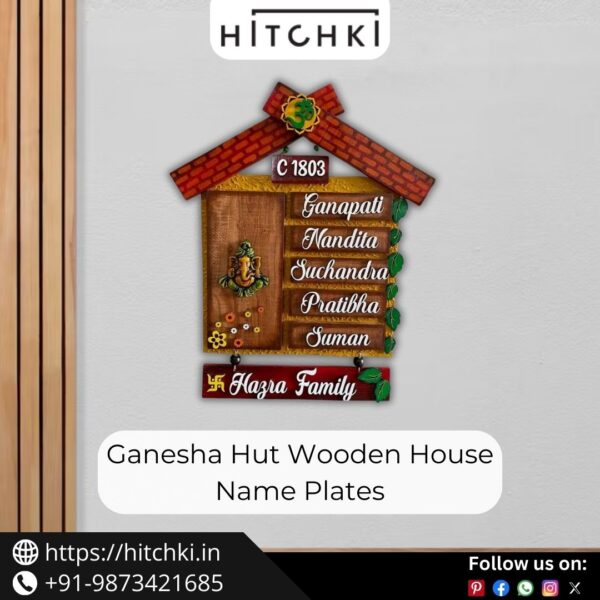 Conclusion:
Elevate your entrance into a mindful sanctuary. The "Buddha Sheesham Wood Nameplate" isn't just decor; it's an embodiment of peace and style. It's a reminder that, amidst the hustle, your home is a place of serenity and intentional living.
Watch as your entrance becomes a portal to mindful elegance. Every moment becomes an opportunity to embrace tranquility and greet each day with a calm spirit.
Welcome to Hitchki, a world where every detail is a brushstroke of serenity, and every arrival is a mindful journey.