Hitchki is the platform where you get your dream customized wooden nameplate-designed image. We provide wooden nameplates with huge varieties. Hitchki.in is the website where you get your desired handmade product. We deal in Handmade product. The nowadays handmade product that makes your appearance attractive. Buy customized wooden nameplates for home, flat, apartment, door, office, etc. The nameplate is the thing that gives identification about you and your family. We have a variety of designed nameplates like engraved nameplates, kid's nameplates, wooden nameplates for houses, nameplates with house numbers.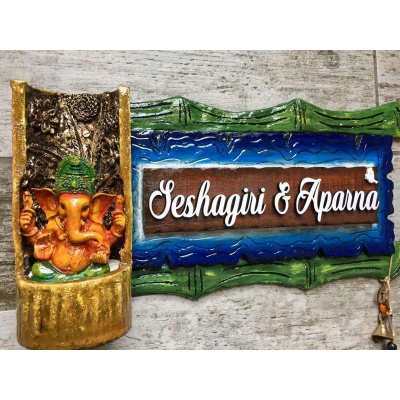 Name Plate on Desk, Villa/Bungalow Wall or School
This name plaque can be customized for use on a desk or table, nameplate for a school wall, or as a bungalow or villa nameplate. This is an absolute piece of art, beautifully engraved nameplate. Lord Ganesha Idol is fixed in its place, can be hanged on the wall too. Ganesha's idol can be replaced with Buddha. We have used Plywood as a base, work has been done in layers, We have used strong adhesives, layered it with coats of varnish. This nameplate was designed for Sheshagiri and Aparna.
Hitchki offers you a customized wooden nameplate with various design. This name plates give an attractive look to your home. Hitchki is the best online platform to get your nameplate.
The etching is the act of chiseling a structure onto a hard, typically level surface by cutting notches into it with a burin. When silver, gold, steel, or glass are engraved, or may give an intaglio printing plate, of copper or another metal, for printing pictures on paper as prints or outlines; these pictures are likewise called "etchings". The etching is one of the most established and most significant methods in printmaking. The wood etching is a type of help printing and isn't canvassed right now.
Hitchki is also dealing with the Indian armed force nameplate. Indian Armed Theme for a nameplate that shows the patriotism about our country. This nameplate is so attractive and amazing. Indian Armed human figure shows the love about Armed force.