Acrylic house name plates are an elegant way to let your customers know who they are visiting. Your business can use these high-quality acrylic products as a sign, plaque, or marker. It is also used in car windshields, shower doors, and bathroom mirrors because of its durability and clarity.
Acrylic House Name Plates From Hitchki Are Best For Your Home
Acrylic house name plates are a great way to show off your style and individuality. Our acrylic house nameplates come in a wide range of colors, shapes, sizes, and materials. We can also custom-make any acrylic house nameplate for you!
With Hitchki's acrylic house nameplates, you'll be able to create an eye-catching entrance that will add style and elegance to any home or business establishment. In addition to being stylish, they are also durable which means they won't break easily as other types of signage would over time due to weather conditions such as rain or sunlight exposure resulting in fading colors, etc…
Acrylic House Name Plates Is An Effective Way To Welcome Your Guests At The Door
The acrylic house name plates is an effective way to welcome your guests at the door. It can be used on main doors, back doors, and entrances. This nameplate can be customized to suit your needs and it will look great on homes or businesses.
Acrylic house name plates are a great way to welcome guests into your home or business!
Customized Acrylic House Name Plates Is The Best Choice For You If You Want A More Rustic Look.
Acrylic house name plates are available in different shapes and sizes. They can be customized, personalized, and illuminated. Acrylic is a lightweight material that can be easily drilled or cut, making it a great choice for customization purposes. These house nameplates are also affordable compared to other materials like wood or metal, which makes them ideal for businesses on a budget!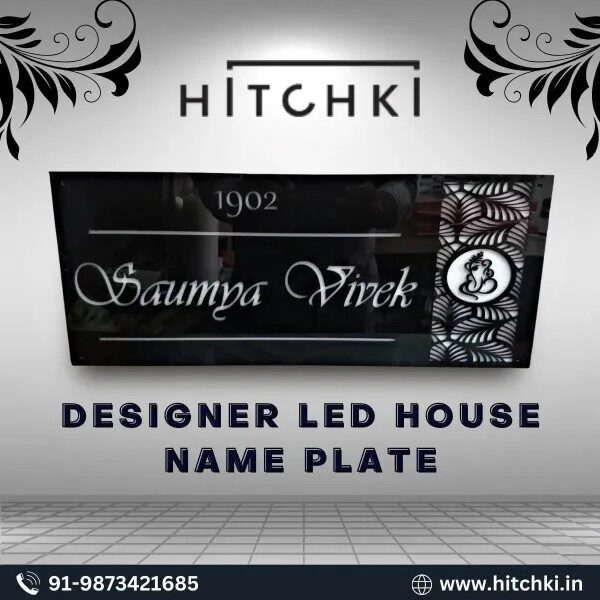 Acrylic House Name Plate Can Be Used On Entrances, Main Doors, And Even On Back Doors
Acrylic house name plates are perfect for the front door, back door, and main door of your home. They can also be used at entrances or exits to your office building. These acrylic nameplates are made from premium quality materials that won't break easily even after years of use. Most importantly, these custom-made acrylic nameplates are available at affordable prices so it won't cost you much to get one made for yourself!
Choose from a wide range of colors and sizes depending on what type of look you want to achieve with your house signboard or entrance signboard. You can even have LED lights installed inside them so they glow brightly at night when there's no external light source available nearby such as street lamps nearby.
It's Best To Shop From Hitchki For Home Decor Options Online
Hitchki is the perfect place to shop for home decor options online. We have a variety of styles, colors, and sizes available in our catalog so that you can find the right product for your needs.
If you're looking for something that will add a touch of style to any room in your house or office space then look no further than Hitchki! We have everything from acrylic house name plates to LED lighting fixtures that will make any room pop with color!
Buy Your Own Customized LED Acrylic House Name Plate Today
Acrylic nameplates are a great way to add some personality to your home. They're also incredibly durable, so they'll last for years without fading or cracking.
Acrylic nameplates can be made in any shape or size, so you can choose exactly what you want!
When it comes time to buy acrylic house nameplates online or offline, be sure that you get them from a trusted source. The best place is Acrylic House Name Plates because we offer high-quality products at affordable prices.
Conclusion
We are Hitchki a reliable supplier of acrylic house nameplates in India. We provide high-quality products at reasonable prices.