A wooden nameplate design is a great way to personalize your home. You can use it for a sign on the front door or hanging above your fireplace. In this article, we'll show you how to make your own wooden nameplate design online and use it to create a personalized sign that says whatever you want.
Order Today Best Wooden Nameplate Design From Hitchki
You can design your own wooden nameplate online from Hitchki in just a few easy steps. We have a wide range of wood finishes, fonts,, and designs to choose from so you can create something that's truly unique to you.
You Can Choose From An Extensive Selection Of Wood Finishes, Fonts And Designs Features
Once you've chosen your wood finish, font, and design features, it's time to choose a color for your nameplate. We offer a wide range of colors that can be applied to any of our wooden nameplates. From natural tones like black and brown to brighter shades like red or yellow – the choice is yours!
Once you have decided on all these things, please contact us so we can make sure everything is perfect before we start making your personalized wooden nameplate.
Customize Your Wooden Nameplate Design Online From Hitchki With The Best Price And Easy Door Delivery
Hitchki is an online wooden nameplate design store that offers you a wide range of wooden nameplates and signs. You can customize your own design, select from different fonts and designs, and order online. The best part? It's super easy to do all this from the comfort of your home!
With Hitchki, you can choose from a variety of wooden nameplates and signs. We have wooden nameplates for every purpose: office, home, school, etc. We even have door signs to welcome guests!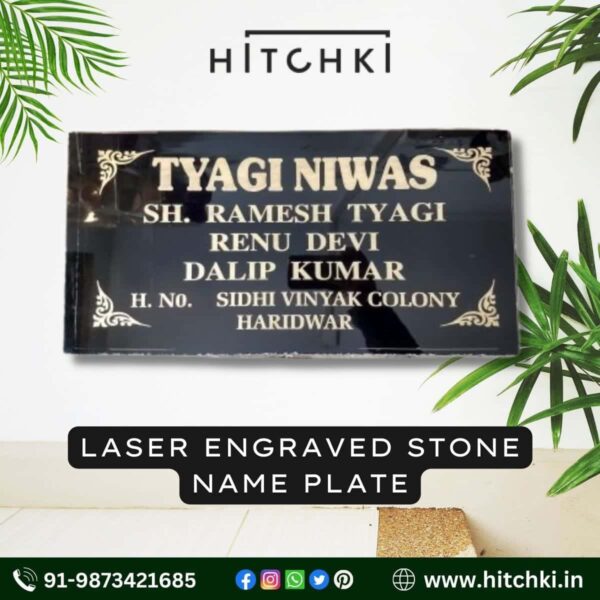 Door Nameplates Are Now Easy With The Latest Designs
You can now have a door nameplate that is custom-made to your specifications, at the best price, and delivered right to your door. The wooden door nameplates are available in various designs, so you can choose one that suits the look of your home.
You can also customize it by adding text or symbols of your choice on it, such as names or initials of family members living in that particular room. This will add an elegant look to the entranceway of any home while also providing information about its occupants' identities
Conclusion
We are the best online store for door nameplates and we can help you with your design. We offer a wide range of products and services at affordable prices. Our team is always there to assist you in any way possible. So don't hesitate, order today from Hitchki!