Hitchki is an online platform that provides unique wooden nameplates designed for homes with various categories. Nameplates with an attractive look give a beautiful appearance for your entrance. We provide us with the best unique nameplate designs for flats, houses, apartments, villas, or offices near you. Whenever we go online in search of the best handmade personalized nameplates only Hitchki is the last option we go for. Must be thinking why? Obviously, because the designs are best when mixed with creative talent and the hope to spread happiness all around by the artwork and that all is done by our team at Hitchki.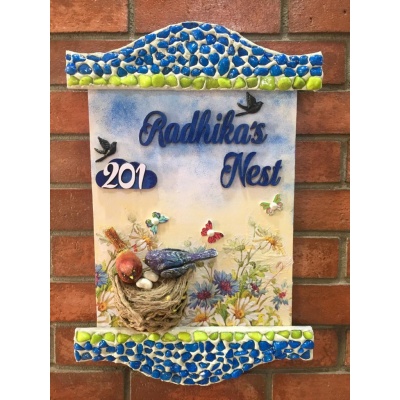 Wooden Name Plate uniquely decorated with handmade nest and birds made with Plywood, Airdry clay, laser cut names, and stones which is customizable as per requirement.
Nature always surprises us, attracts us, and mesmerizes us.
This creation is also dedicated to Mother Nature.
We have placed a bird family with a nest on a natural background, Embellished with small birds and butterflies. Blue colour stones are completing the look.
Text limit- 10 letters each line for 2 names.
3-4 numbers for Flat No.
Dimensions- 15x 11 inches
Colour- Blue
Material- Plywood, Airdry clay, laser cut names, stones.
Engraved Unique Wooden Nameplates Designs For Home
We provide unique engraved nameplates with different wood materials like Teak, Sheesham, Neem, etc. The engraved nameplate is perfect for your home, villa, door, office, flat, and apartment, etc. We offer you India's largest collection of unique wooden engraved nameplate designs online. Engraved nameplates with attractive looks give a beautiful appearance for your entrance. Here, you choose the perfect customized wooden engraved nameplates for your home, apartment, flat, office, etc from an extensive range of engraved nameplate designs.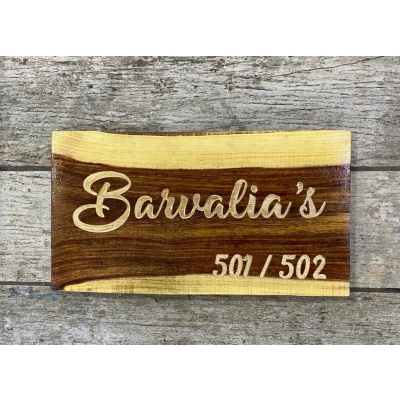 Beautiful & Unique Sheesham Wooden Nameplate engraved with the name and it is amazingly styled which gives a beautiful look to your home.
Size = 16″x8″
Wood: Sheesham/ Rose Wood
Design: Engraved Name Plate
Wooden nameplates in a variety of door plates, and desk nameplates. It looks cool and gives a gorgeous look to your home, office, flat and apartment, etc. We offer an incredible variety of customized wooden nameplates that are sure to give your house a stunning appearance. This classic wooden nameplate is the perfect decoration for your house doors.
Customize handmade designer family nameplates. it can be customized as per requirements. we have used a wooden base and made using Lamasa air dry clay and oil paint. Blessed with Ganesha. #clayfigure #lamasaart #airdryclay #HobbyIdeas #clayartwork #Homedecor #nameplatesforhome #nameplateforhome #fevicrylhobbyideas #handmadegift #artwork #Homedecortion