Hitchki is the online platform here, you get the best name plate design idea for the main gate, door, flat, apartment, etc. The nameplate designs give the identity of the person who lives inside the house. Nameplates are both a necessity and an element of decoration to build up the first impression of your guests and provide your unique identity and information. We know nameplate impress the visitors with our attractive looks and with identities of your home. Here are 20 nameplate designs for your home and flat's, door, apartment, villas, etc.
Simple and Cute Wooden Plywood Name Plate for your sweet house uniquely decorated with Plywood MDF cut names which is customizable as per requirement. This name plate is beautifully designed for a pleasantly simple and attractive look with laser-cut names.
Alka and Shashi Mathur Wooden Handmade Name Plate. Colour- Light Brown. Material- Plywood, laser cut names.
Customized Rose Wood or Sheesham Wooden Nameplate engraved with the name and it is amazingly styled which gives a beautiful look to your home. Prices are for one name.
Size = 16″x8″
Wood: Sheesham/ Rose Wood
Design: Engraved Name Plate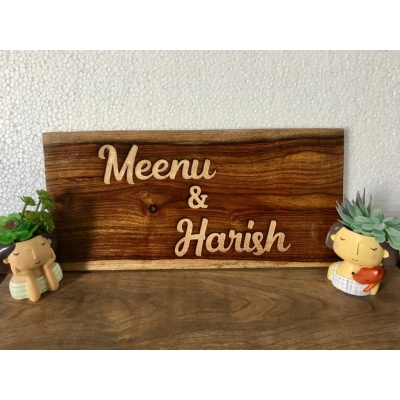 A bright, colorful Indian Army – Navy themed wooden nameplate .It can be customized as per requirements. This is a MDF based wooden nameplate, on it clay work has been done. It has some wooden slices at the back, which gives it a beautiful background. The whole work is sealed with varnish.
Size of the main board 18/8″,back part is approx 2/11″
This is an Indian Army-themed couple nameplate with a beautiful caption. It can be customized as per requirements. The board used is an MDF-based wooden board, on it clay work is done. These are handpainted with acrylic colour and sealed with varnish. Names are also laser cut of MDF material. Two back hooks are attached.
size-17/8″
This is a bright, beautiful, handcrafted, customized floral nameplate. The nameplate has laser cuts on both sides. We have also added a picture of a beautiful girl with a frame. It can be customized as per requirements. We have used MDF based wooden base here and on it, clay work is done. And sealed with varnish. Size-14/11″.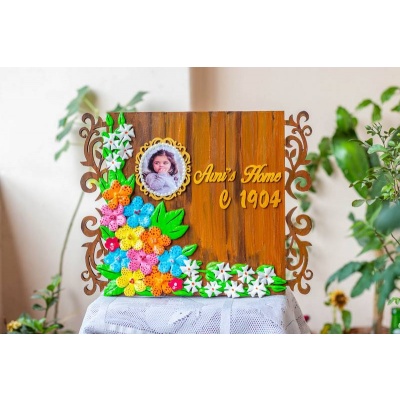 Wooden nameplate design for home sweet home to glam up your entry foyer or entrance.
Material – MDF Handpainted Handcrafted Varnished Colour can be customized.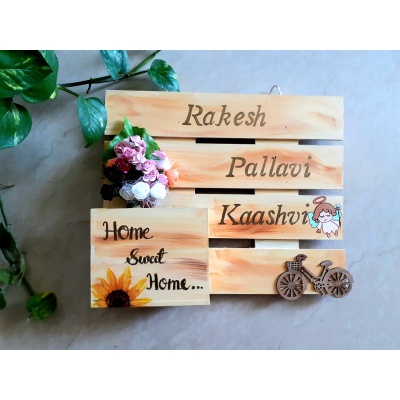 This is a bright, colorful wooden nameplate. The Jagannath idol made here is totally handcrafted. We can customize any other idol instead of that. Peacock feather made it is also handcrafted. We have also given a little touch of lippan art in this. The sun and names are laser cut of MDF material. Two back hooks are attached. This nameplate will definitely give your entrance an amazing look.
Size-19/9.5″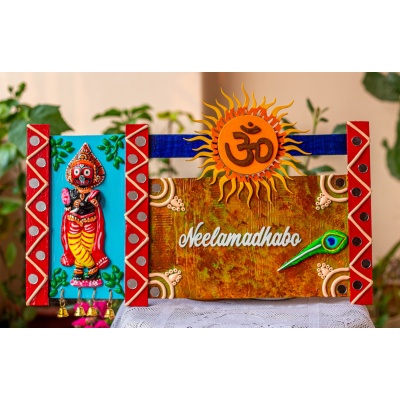 Customized wooden nameplate with cute owls to decorate your home and entrance. Handpainted and handcrafted for you. Work has been sealed with varnish. Anything can be customized as per your requirement. Feel free to order or chat with us for more information.
Material – MDF (wood) Varnished
Size – 12″ x 9″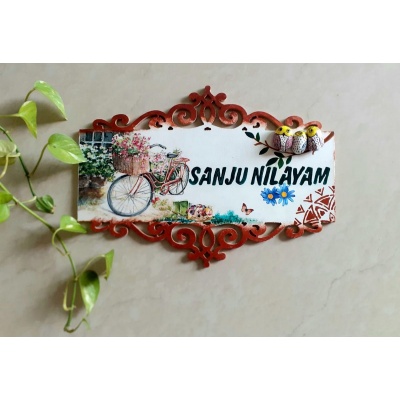 Customized Abstract Ganesh Wavy Edges Wooden Nameplate has all elements of an ethnic look. We have placed surname bigger than names, so it will hi-light perfectly. We gave many colorful patches so the brown base comes into nice contrast. Stones on both plates are giving a beautiful uneven rusty feel. Brass Bells are completing the look.
Material- natural wood, plywood, stones, laser cut names, om and Ganesha, jute string, brass bells.
This nameplate is specially designed for Vikrant and Shruti. It can be customized as per your requirement.
Size- 21×12 inch
For the blossoms of our life, That complete our circle of life, Filles it with their liveliness and cheerfulness. To Celebrate the happiness they bring to our life…..our kids, Illuminate their room with this nameplate or Gift it to other loving kids.
size = 18 X 13 Inches
This an oval-shaped, jungle-themed kid's nameplate. It can be customized as per requirements. The base used is an MDF-based wooden board, on it clay work is done. Size-12/7″
Get a Colourful Family with Children Acrylic NamePlate, full of characters and personalized designer door signs. This custom-made nameplate is made of Good MDF Cuttings and acrylic paints. These door signs add a perfect touch to your child's room and are also a very uniquely personal gift to give your child or baby kids at an affordable price. Names on NamePlate in Pic: Sangram, Myra, Asha.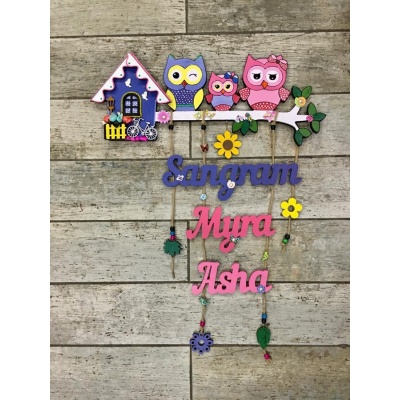 So, Our bicycle is parked in a beautiful garden, surrounded by colorful flowers and butterflies. There are pebbles around and a fence too. Isn't it adorable? We have used plywood as a base and worked with cement, pebbles, jute, flowers, wood cuttings on it. This nameplate is good for apartments. We can write 2 names instead of a big surname. Text Limit- 10-12 letters for names, House No- 6 letters. We will provide different font designs. 2 names can be written instead of the surname.
Material Used: Plywood, artificial flowers, MDF bicycle cutting, stones.
Size- 15*10
We love our gods, and We love to have their blessings on our family and our home. We placed Ganesha and Om for a good omen. We gave it the shape of a hut and placed a vine on the right side. The nameplate has a place for 3 names, Surname and flat no. We can add one more with an added cost, Text Limit- 7/8 letters each name. 3/4 numbers for address.
Plywood, Natural wood, craft clay, Terracota ganesha, Laser cut Om, Names and leaves, jute string.
Different font options will be given to the customer. We can add one more name for extra cost. Font Colours also can be customised, if needed
Size- 18*18
Buy Designer Sheesham/Teak wood nameplate with Names in Brass Letters on it for Office or House at your Door Step Online. This is a Simple and Elegant Piece, Made on Sheesham Wood and With Brass Letters. We can use Teak Wood too, as per choice.
Letter Description- Height- 3 Inches, Thickness- 5 mm
Board Size: 15×9 Inches
Important Note: Price will be charged per letter required. Subtotal includes shipping price too. The wood size will be adjusted according to the letters written.