Take a House Numberplates from Hitchki, which is very unique and outstanding. Hitchki furnishes astonishing nameplates with the numbers for home, flat, apartment, villa, and office. The house number plates give an astounding appearance, and they are very unique. We have an enormous assortment of plans for the house number plates. Wooden Welcome Signs for Homes. A welcome sign, exceptionally engraved with your home number or level number, is the best thing to add to your home.
Here Are A Few House Numberplates That Can Grab Your Attention.
A fantasy home twin nameplate with the excellence of nature around, overhead in the midst of wonderful mists… that is the topic and thought behind this plan. ( Chhota sa Ghar Hoga, badlo ki chhao me). made with a hard and thick plyboard, normal stones are utilized.
Stones and Bells Wooden Name Plate
The plan of this nameplate is a combination of contemporary and ethnic looks. The base is made with Plywood, enlivened with little stones, Jute string, and ringers. Text space is for last name 8-9 letters. Left side bolts can be utilized for Address or Sweet Home text.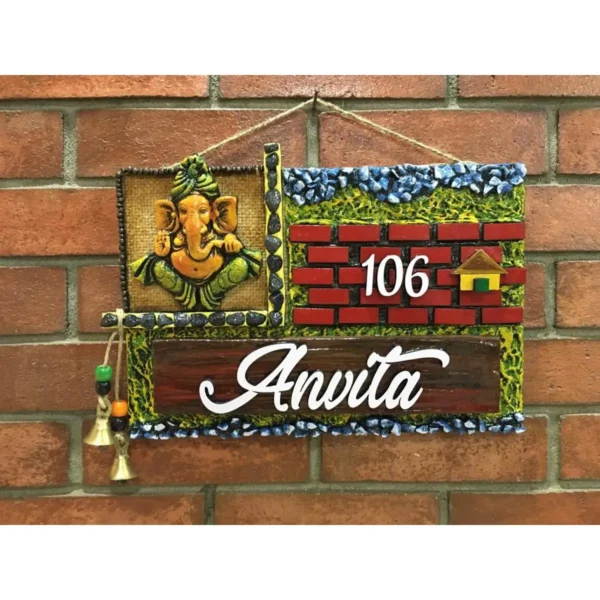 Ganesha Brick Wooden Name Plate
This nameplate is a mix of the ethnic and contemporary plan, We have utilized terracotta Ganesha Idol, Base powder to make the surface, little stones, and MDF wood cuttings. Appropriate for 8-9 letter last names. The block region is for the location. Tough and divider mount, a pleasant beautiful workmanship piece for your home.
Explore more different varieties of nameplates on Hitchki.in.