The greater extent of unique hand-made nameplates for houses that are accessible to Hitchki makes it the best choice for working on your home and residing region. Plan and stylistically lay out your place with the best beautiful things and give it another look. Research famous and expressive subjects on Hitchki, which will include your creative mind and make your home beautiful. These nameplates are an optimal present for your friends and family and for any occasion.
Nameplates for Houses is something which is the initial feeling in your home. guest. An imaginative, novel plan, a lovely and astounding nameplate, will cause the guest to feel cheerful. While looking for a house nameplate close to me, you will meet Hitchki. Here we make redesigned house nameplates for you and make them accessible at your entryway for your dividers, pads, condos, lodges, estates, and so forth.
Krishna Ladduji Wooden Name Plate
Little Krishna is really cute, and designer handmade panels make this nameplate very beautiful. May the blessings of Krishna be always with your family.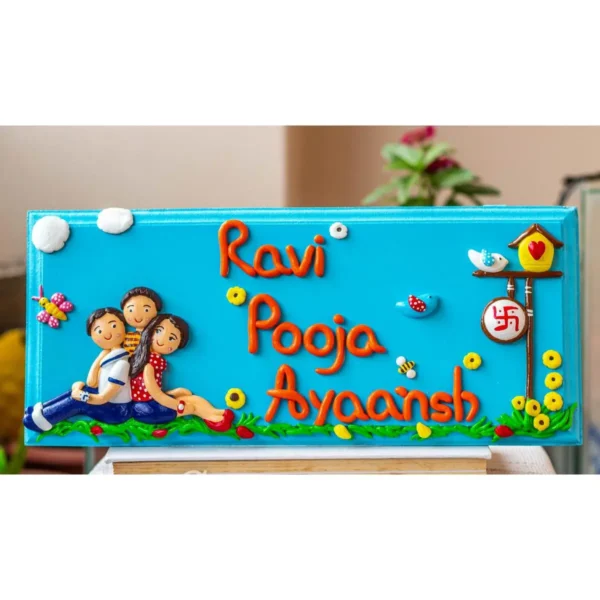 Personalized cute family-themed nameplate
A super cute, bright, beautiful, creative wooden nameplate for a family of three. It can be customized as per requirements.
Customized Bright Hut Shaped Family Nameplate
A bright, beautiful, hut-shaped nameplate portrays a happy family. It can be customized as per requirement. The material used is MDF-based wooden material and on it, clay work is done. Painted with acrylic colour and sealed with varnish. Two back hooks are attached.