In the world of interior design, the smallest details often make the most significant impact. Among these details, the nameplate with light stands out as a unique and elegant choice to elevate the aesthetics of any space. At Hitchki , we take pride in offering a stunning collection of nameplates with light options that not only illuminate your surroundings but also add a touch of sophistication. In this comprehensive article, we delve into the world of nameplates with light and why you should consider them for your home or business.
Enhancing Your Space with Nameplate Elegance
The Power of First Impressions: We all know that first impressions matter, and your home or business's entrance is no exception. A well-designed nameplate with light can instantly grab the attention of visitors and create a positive impression. It sets the tone for what lies beyond the door, making it a key element of your overall décor.
A Unique Blend of Functionality and Style: Nameplates with lights are not just decorative; they serve a practical purpose as well. By illuminating your name or address, they make it easier for guests, delivery personnel, or clients to locate your property, especially during the evening hours. This combination of functionality and style is what sets nameplates with lights apart from traditional ones.
Why Choose a Nameplate with Light?
Enhanced Visibility: One of the primary reasons to opt for a nameplate with light is the increased visibility it provides. Whether it's your home or your business, a well-lit nameplate ensures that your name is easily seen even during the darkest of hours. It's not just a decorative piece; it's a functional addition to your space.
Personalization: Hitchki offers a wide range of customization options for your nameplate with light. You can choose from various designs, fonts, and materials to create a nameplate that reflects your personality and style. Whether you prefer a classic, elegant look or something more modern and chic, we have options to suit every taste.
Impression: Your nameplate is often the first thing people notice when they visit your home or office. A nameplate with light makes a lasting impression and sets the tone for what lies beyond the door. It conveys a sense of warmth and welcome that is hard to achieve with a regular nameplate.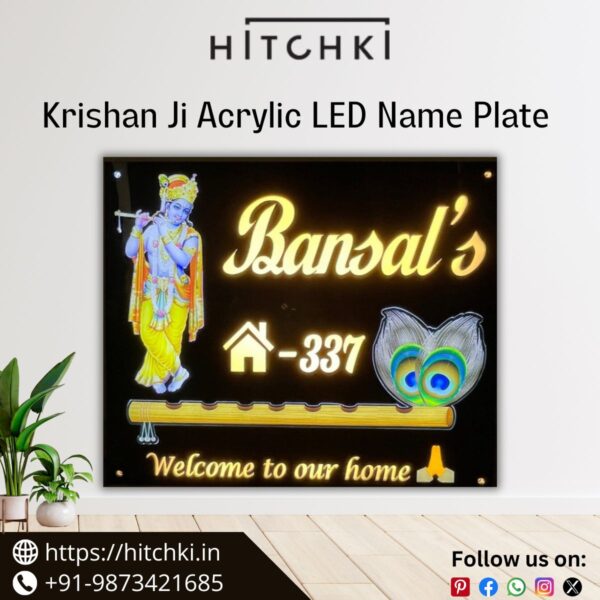 Conclusion
In the realm of interior design, the nameplate with light is a shining star that deserves your attention. It combines the practicality of guiding visitors with the elegance of unique illumination, creating a lasting impression. At Hitchki , we offer an exclusive collection of nameplates with light options that cater to various styles and preferences, ensuring there's a perfect match for every space.
Elevate your home or business's entrance with our handcrafted, premium-quality nameplates, and let the world see your space in a new light. Choose Hitchki for sophistication, quality, and a touch of brilliance that leaves a lasting mark.