In today's fast-paced world, where everything seems to be mass-produced and impersonal, adding a touch of uniqueness and warmth to your home can make all the difference. One way to achieve this is by incorporating wooden nameplates into your home decor. These beautiful and personalized creations not only infuse a sense of family identity but also serve as a charming piece of artistry that reflects your style. At Hitchki, we understand the significance of family and craftsmanship, and our wooden nameplates are the perfect embodiment of these values.
Captivating Wooden Nameplates: Elevate Your Home's Charm
Wooden nameplates are more than just signposts; they are an extension of your family's personality and a delightful addition to your home's decor. Crafted from high-quality wood, these nameplates offer a timeless appeal that can transform any house into a warm and welcoming abode.
One of the most significant advantages of wooden nameplates is their personalization. At Hitchki, we offer a wide range of designs and styles to choose from, ensuring that you find the perfect fit for your family. Whether you prefer classic elegance, rustic charm, or modern minimalism, our nameplates can be customized to reflect your unique taste.
Wooden nameplates are not only aesthetically pleasing but also durable. When properly maintained, they can withstand the test of time, becoming a cherished family heirloom passed down through generations. The natural grain patterns of wood add character, making each nameplate truly one-of-a-kind.
Hitchki: Crafting Memories with Wooden Nameplates
At Hitchki, we take pride in our commitment to delivering the highest quality wooden nameplates. Each piece is carefully crafted by skilled artisans who share our passion for blending traditional craftsmanship with contemporary design. Our dedication to excellence ensures that you receive a product that surpasses your expectations.
When you choose Hitchki for your wooden nameplate needs, you open the door to endless customization possibilities. From selecting the type of wood to choosing the font and design elements, we put you in control of the creative process. Our team works closely with you to bring your vision to life, resulting in a nameplate that perfectly complements your home.
Our wooden nameplates are designed with families in mind. We offer a range of designs that incorporate family names, initials, or even meaningful quotes that hold sentimental value. These nameplates serve as a constant reminder of the love and unity that bind your family together.
How Wooden Nameplates Enhance Your Home
Your home's entrance sets the tone for what lies beyond. A personalized wooden nameplate not only adds a touch of sophistication but also creates a warm and inviting ambiance for your guests. It's a simple yet effective way to make a lasting first impression.
In today's busy world, it's easy for family members to feel disconnected. A wooden nameplate prominently displayed in your home serves as a unifying symbol, reminding everyone of their belongingness to a loving family unit.
Looking for a thoughtful gift for a housewarming or anniversary? Hitchki wooden nameplates make for excellent presents. They are not just pieces of decor but tokens of love and appreciation that can be cherished for a lifetime.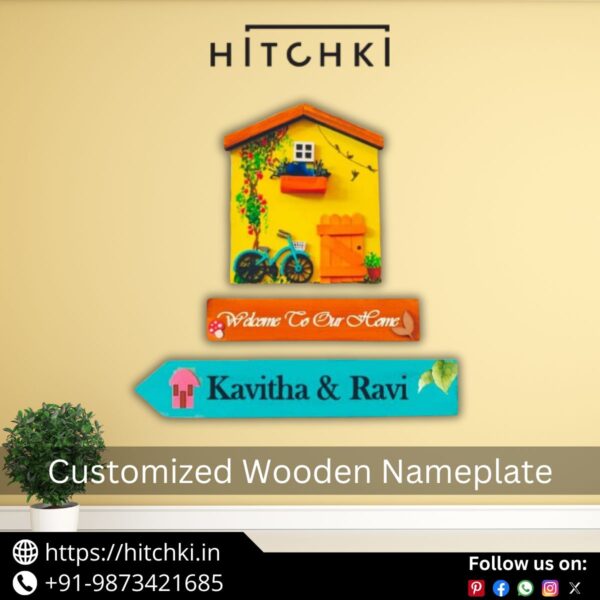 Conclusion
In a world where individuality is often overshadowed by mass production, Hitchki stands as a beacon of personalized craftsmanship. Our wooden nameplates are more than mere home decor; they are a testament to the importance of family and the value of uniqueness.
When you choose Hitchki, you are not just buying a nameplate; you are investing in a piece of artistry that will enhance your home's elegance and create lasting memories. Elevate your home with our wooden nameplates and let the world see the beauty of your family's unique identity.
Visit Hitchki today and explore our wide range of wooden nameplate designs. Transform your house into a home that exudes warmth, love, and personality. Discover the magic of family-centric decor with Hitchki.