Hitchki is the best Customized Nameplate producer in India. In the event that you need to realize how to make redid nameplates along these lines, it's smarter to purchase tweaked nameplates and Hitchki is the best-redone nameplate vendor. Hitchki makes nameplate plans for pads also and they are the most excellent plans according to the present pattern. Hitchki tweaks nameplates with photographs also. They can show you how a free online nameplate customizes on their site additionally in this way, you can have a smart thought that what sort of nameplate suits your divider or on your entryway of the house. Hitchki is additionally best in making an acrylic nameplate thus a wide range of sorts of nameplates as well. In the event that you need to buy a polished and interesting nameplate for your home, you can just provide requests to Hitchki.
Customized Handcrafted Beautiful Floral House Nameplate
A customized, handcrafted, wooden nameplate with beautiful, colorful floral arrangements. This is an MDF-based wooden material and on it, clay work has been done. And sealed with varnish. Two back hooks are attached. It can be customized as per requirement.
Size-14/11″
Best Customized Handmade Name Plate
Hitchki has likewise so a wide range of and extraordinary Best Customized Handmade Nameplates plan for office table and they make office nameplates so alluring that it will give a respectable impression of your business and office. Hitchki customized in carefully assembled nameplates, steel nameplates, clay nameplates, Wooden Handmade Nameplates, wooden nameplates with light, glass nameplates, and they have all the assortments of high-quality wooden plates for each entryway, divider, office, and for everything. On the off chance that you search on google for the best-customized nameplate creators close to me, you will become acquainted with Hitchki in light of the fact that they are the best handmade nameplate fashioner in India and they sell their nameplates over everywhere in the world at the best costs with astonishing quality. Hitchki makes so alluring and bright nameplates that really look value commendable, excellent, and the best.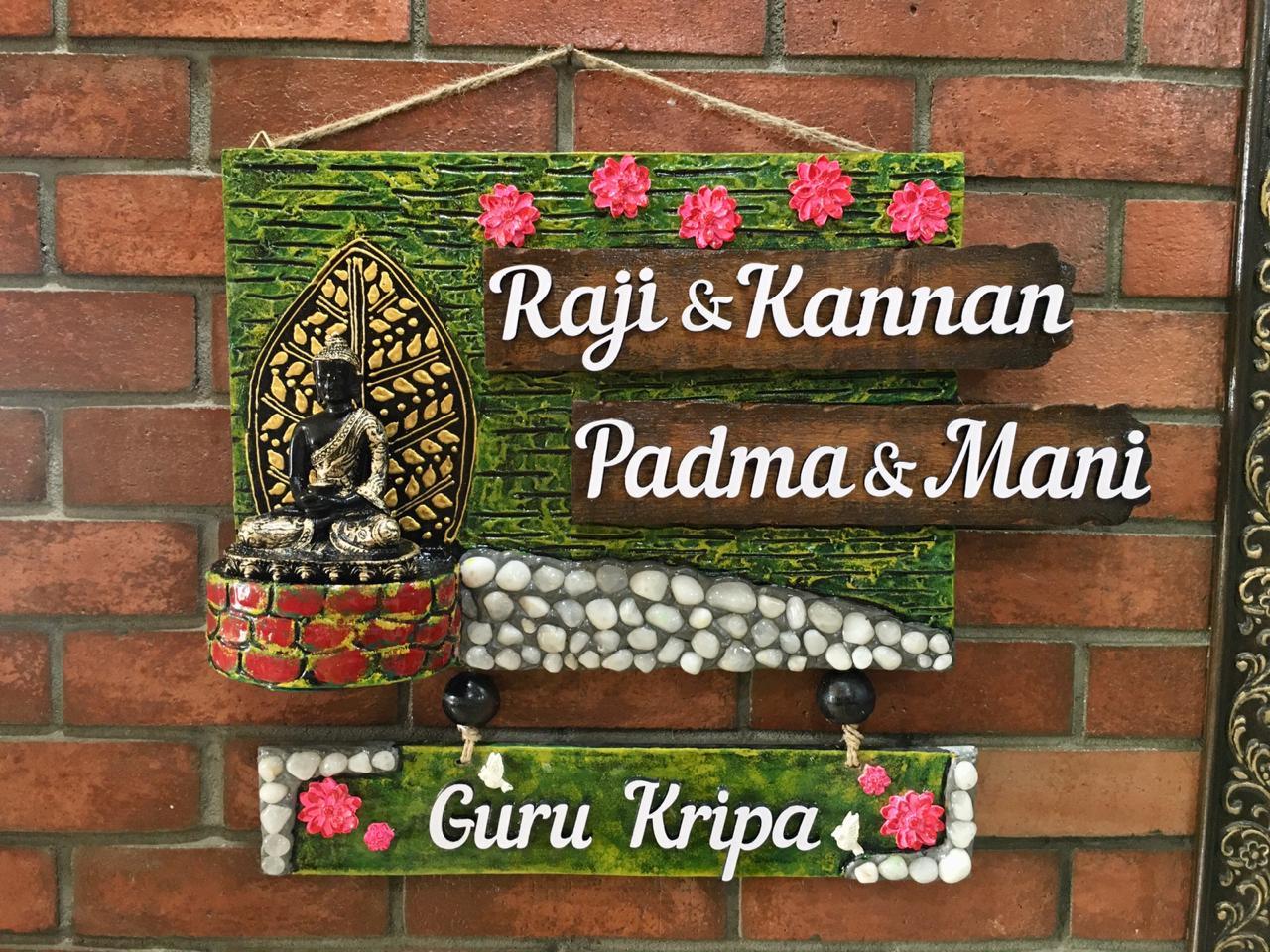 Lord Buddha With Marbles Name Plate For House
An absolute piece of art, beautiful nameplate. Buddha is fixed in its place, can be hanged on wall. Lotus flowers are depicting the spiritual essence of Buddha. Lord Ganesha can be replaced with Buddha at customer's preference.
Size- 20×15 inch