Nameplates play a very important role in our home, they tell the identity of the owners. And if the nameplate is unique and beautiful it gives a good impression of yours. Hitchki is the Best Nameplates maker in India. Hitchki is the fine supplier of handmade nameplates in India at the best price. Customers also can inform their necessities to them and they can easily personalize their nameplates consistent with their requirements and their imagination beautifully. Hitchki's speciality is making handmade traditional-searching nameplates with tremendous stunning colours with an Indian essence that appears extremely stunning. The patron can customize their nameplates according to their designs due to the fact all they need is consumer pride. Wooden Nameplates by using Hitchki appears very attractive. The creative paintings on the nameplates are the speciality of Hitchki.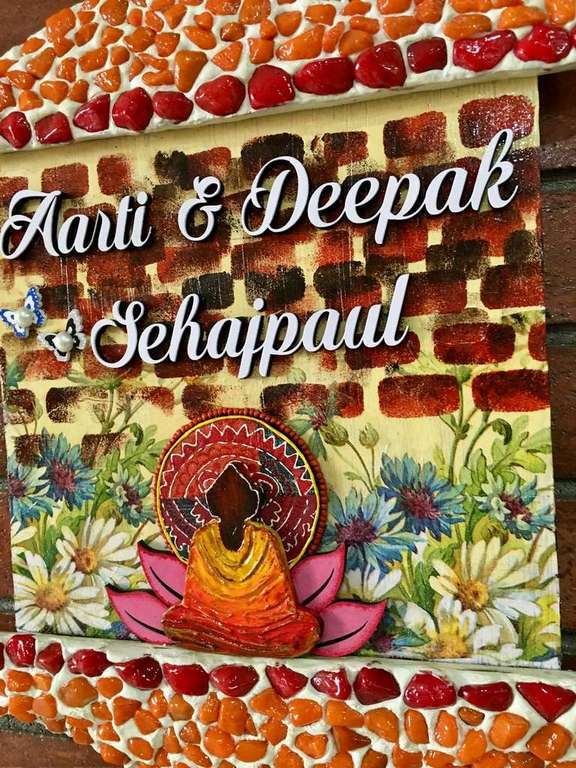 Buddha In the Woods Wooden Name Plate
Buddha in a meditating form, sitting amidst nature, This is a beautiful artistic nameplate for your home entrance. Designed thoughtfully in terms of colour combination and use of decorative materials. Natural stones are used on Plywood base, along with Decoupage technique on base. Text Limit- Line 1- 10 letters, Line 2- 8 letters
Hitchki makes so creative and unique designed wooden nameplates. Some of the Wooden Nameplates Designs names are the wooden Hut family nameplate with faces, Ganesh Hut wooden house nameplate, Zig Zag twin plank natural wood nameplate, Sun and Cloud wooden nameplate, Glow Jar Wind Chime nameplate, Wooden hut family nameplate, Beauty of Spring wooden nameplate for the door, Huge Name nameplate for a new home, Good Vibes Only wooden nameplate, a Designer Plywood nameplate for Bungalow Garden, Flower and Om wooden nameplate, Ethnic om wooden nameplate, Hanging hearts wooden nameplates, Pebble and Leaf wooden nameplate, Mountain Hut wooden nameplate, Couple Statue wooden nameplate, Dream House wooden nameplate, Criss Cross Ganesha wooden nameplate, 3 in 1 Designer wooden nameplates, Buddha in the Woods wooden nameplates and so many more.