Buy a Door nameplate for the home online at HITCHKI. Hitchki is the best seller for wooden nameplates in India. The door nameplates give an attractive look to your home. Hitchki provides different categories for wooden nameplates like Engraved, kids, nameplate with a number, for home, for flat, for an apartment, etc. This nameplate gives a personal touch to your home with our personalized and customized nameplate. We can make nameplates in any language.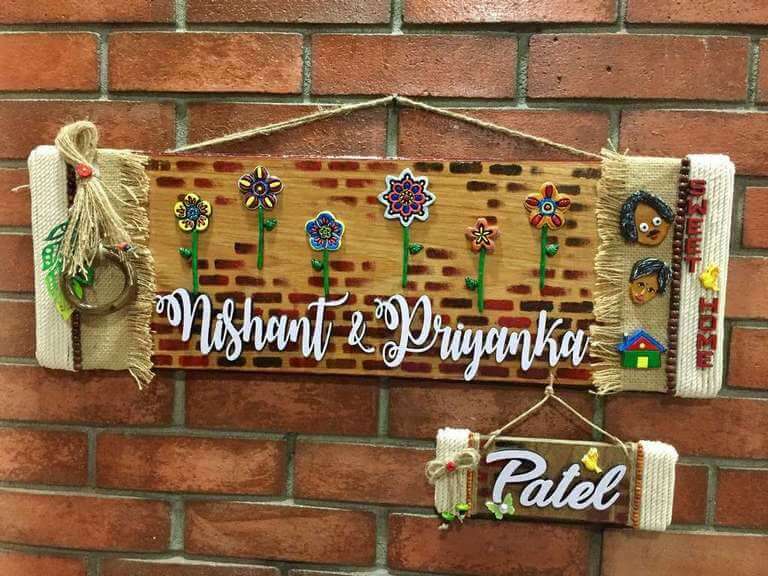 There is lot to be loved in this name plate. We have given earthy look to this nameplate by using jute cloth, jute strings and rusty decor. We gave wall look to the base and decorates it with embossed flowers to complete the look, a couple face is given on the right side, and written sweet home, so that it becomes the face of your beautiful home.
Size- 18*9
Buy Engraved Door Nameplate Online
Engrave nameplate at hitchki with different wooden material. We provide different type of woods like Teek, Sheesham, Neem, etc. The customized engrave nameplate gives a best look for your home. We made the nameplate under the consideration of our customer desires. Here, You get Customized engraved wooden nameplate for flat, apartment, door, home, office, etc.
Buy Customized Nameplate for Kid's Door
Hitchki is the best seller for kid's nameplates. Most of the kids love cartoons and superheroes so, we provide cartoon and superhero's theme-based nameplate. Hitchki makes so many different types of nameplates for the kids' room like Doll theme wooden nameplates for girls, Car nameplates, Rainbow kid's wooden nameplates, McQueen car kid's nameplates, Auto rickshaw kid's nameplates, Truck theme wooden nameplate, Sophia kid's nameplates, girly owl kid's nameplates, bird on a tree wooden nameplate, etc.