Hitchki is the top seller of unique and customized nameplates. All nameplates under this category are available in the Regional language. The nameplate can be Customized in Hindi, Gujarati, English, Kannada, Bengali, Marathi, Punjabi, Telugu, etc. We can make nameplates in any language. Chat with us. Hitchki has a variety of categories in nameplates like Engraved, Kids nameplates, wooden nameplates, Indian armed nameplates, etc. Nameplates are available for the flat, apartment, home, kid's room, office, etc. Nameplate in your language gives the best feeling and it describes love about your region.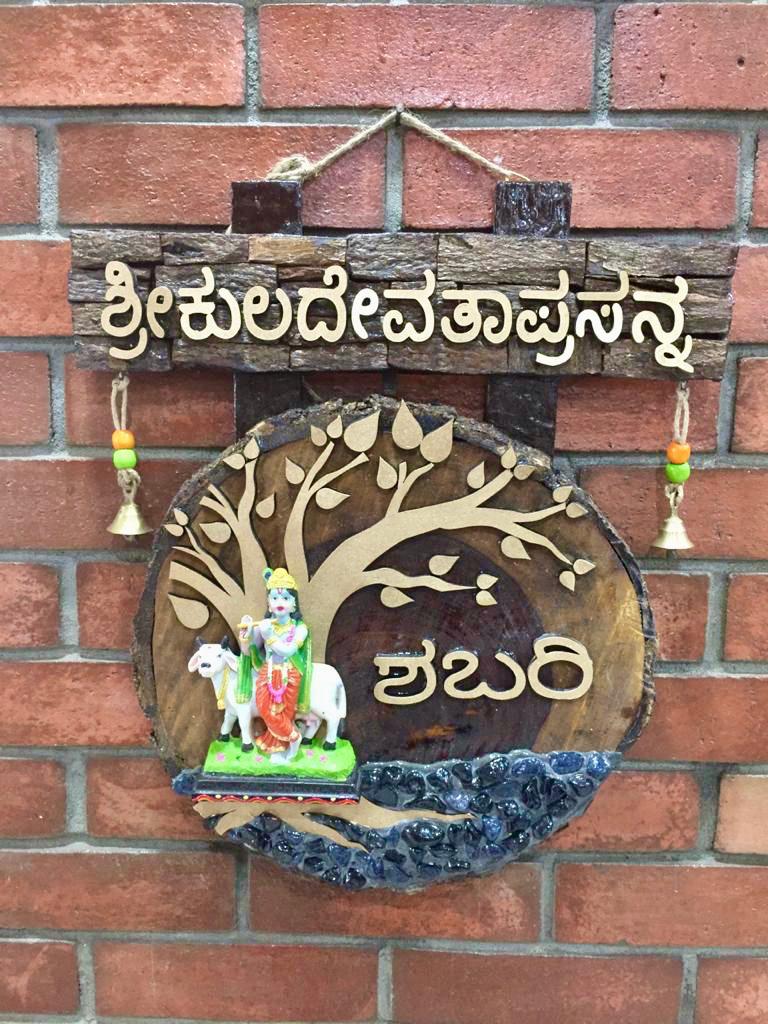 Krishna Wooden Nameplates In Kannada For House
Kannada Nameplate in Natural Sheesham Wood Log has its own charm, so we designed this nameplate with Sheesham wood, which has its unique light and dark-toned circles.
Names and trees are lasers cut MDF wood. The upper part of the nameplate is a plywood base with tree bark pasted on it.
Any language of the text can be done, and the design also can be customized.
Size – 17x 14 inch
Material- Sheesham wood log, tree bark, plywood, MDF laser cut tree and names, natural stones.
Name Plate for Office, House or Apartment In Bengali
This name plaque can be used for an office, a nameplate for a house, or an apartment nameplate in Bengali. This is an absolute piece of art, a beautifully engraved nameplate. Lord Buddha Idol is fixed in its place and can be hanged on the wall. Buddha's idol can be replaced with Ganesha's. A green colour base is also available. We have used Plywood as the base, Work has been done in layers, We have used strong adhesives, and layered it with coats of varnish. This nameplate was designed for the Chatterjee Family Text limit- 14-15 letters (upper line), 7-8 letters( lower line)
Size- 15*12
Ganesha-themed customized family nameplates for the house. Two boards are attached with a chain. Material is MDF and clay work has been done. Ganesha is totally handcrafted. We have used acrylic colour and sealed with varnish. Names also are made of MDF.
Size of the upper part is 14/6″
and the lower part is 9/2.5″
Hitchki is the best seller for engraved nameplates. It provides you with an engraved nameplate with different types of woods: Teak, Sheesham, Neem, etc. An engraved nameplate gives gorgeous look to your home.  This elegantly customized engraved nameplate is perfect for your home, office, flat, apartment, etc. 
Nameplate in your language gives the best feeling and it describes love about your region. Name Plates for House is something which is the first impression on a visitor who gets intyour home. A creative, unique design, beautiful and amazing nameplate will make the visitor feel happy.