Hitchki presents you with a Designer Acrylic Nameplate in different colors and texts. Hitchki is a place where you can shop for cool & quirky customized gifts and home decor. We specialize in personalized name plates wooden names plate acrylic name plates for home acrylic multicolored nameplate multicolored acrylic home nameplates the best place for home name plate
Hitchki. In Presents In Designer Acrylic Nameplate in Different Colors and Texts
Hitchki.in presents Designer Acrylic Nameplate in different colors and texts. You can also order the nameplate according to your choice of color, text, and font style. The best thing about our Acrylic Multicolored Name Plate is that they are made with quality material which makes them durable and long-lasting.
Cool & Quirky Customized Gifts and Home Decor
Hitchki is a place where you can shop for cool & quirky customized home decor. We specialize in personalized nameplates, brass nameplates, and all kinds of decoration products by giving your old stuff a new look.
We Specialize In Personalized Name Plates
If you are looking for a nameplate, we have the best in the business. We can give your old stuff a new look by giving it an engraved nameplate. If you would like to purchase personalized name plates, brass name plates, or letters for your home then Hitchki is your best choice!
We specialize in personalized nameplates, brass nameplates, and lettering for homes. Please feel free to contact us if you have any queries about our products.
Wooden Name Plate
A wooden nameplate is a perfect way to bring personality and uniqueness into your home or office. The best thing about our wooden nameplates is that they are made from natural wood, so you can have the look of wood without worrying about splinters or damage from rough use. Our wooden nameplates come in a variety of sizes, shapes, and colors to suit whatever you may need them for!
Whether you're looking for a classy piece to display in your office or something whimsical for your child's room, we have just what you need! Whatever style fits your taste best, we're sure our products will help tie everything together perfectly!
Acrylic Name Plates
You can use acrylic nameplates to decorate your home or office. Acrylic nameplates are available in different colors and styles. Each acrylic name plate is personalized with your own name or other phrases like "Home Sweet Home", "I Love You", etc., as per your choice. Acrylic nameplates are durable and long-lasting, so they will remain in perfect condition for many years to come.
Acrylic Name Plates are the best way to decorate your home or show off your style! They make it easy to express yourself with a customized message that reflects what matters most to you—whether that means "Welcome", "Home Sweet Home", "Love" (with an arrow), etc., there's something here for everyone!
Name Plates for Home
Nameplates are an excellent way to display your family name or even your favorite saying. From a simple wooden plaque to a personalized acrylic sign, we have name plate designs for every home and budget.
Name plates can be displayed in any room of the house. They're especially great for bathrooms and kitchens, where they'll show off decorative flair as well as help keep things organized!
Personalized name plates for homes are available in several materials: wood, metal (brass or bronze), and plastic (acrylic). Each material has its own benefits and drawbacks; see below for more details on each type:
Acrylic Multicolored Name Plate
An acrylic nameplate with multicolored letters is a great way to make your house look more elegant and stylish. This acrylic nameplate is made of high-quality acrylic material which makes it durable and long-lasting. The letters are made in bold fonts so that they can be easily read from a distance without any difficulty. It has different colors like green, blue, red, yellow, etc…
The multicolored acrylic nameplates have different sizes depending on their uses such as for door signs or for vehicle plate frames. Acrylic nameplates are available in various shapes such as square or rectangular shaped ones so you can select the one which suits your home décor best!
Multicolored Acrylic Home Nameplate
Finding a multicolored acrylic home nameplate has never been this easy. At Hitchki.in, you can explore various designs and patterns of personalized acrylic name plates in various dimensions and shapes.
Customized Name Plates for Home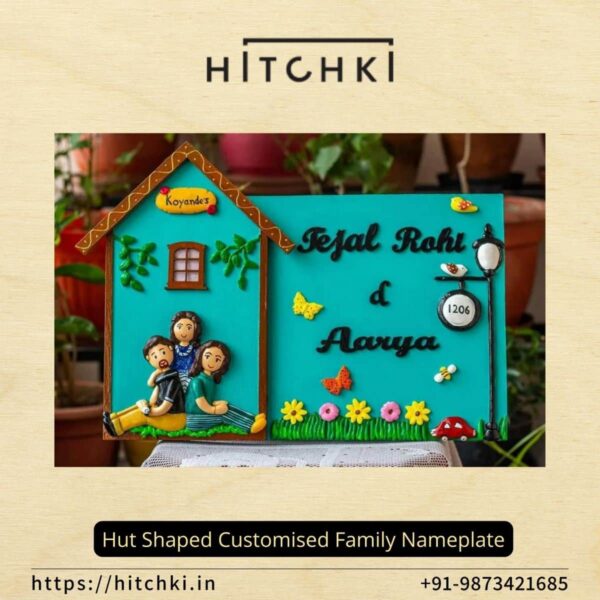 If you have a passion for interior design, then there is no better way to express it than by adding some customized features to your house. To do so, you need to shop from one of the most reliable stores that offer high-quality customized home name plates like the ones offered at Hitchki.in. We have an extensive collection of different types of personalized acrylic letters which are available at reasonable prices allowing you to buy online without worrying about their quality or cost-effectiveness as well as shipping charges because we offer free shipping across India! We also provide a customization facility so that each customer gets a unique design according to their requirements and budget!
The Best Place for Home Name Plate
You can make your home look more attractive with the help of our personalized nameplates. We specialize in customized gifts and home decor. We have a wide range of products like custom-made acrylic nameplates that are easy to install and can be used as wall décor items.
Our team consists of experts who work hard to meet the expectations of our customers by providing them with high-quality products at an affordable price range.
Be Unique With Hitchki
Hitchki.in is the best place to buy the home name plates. We offer you a wide range of nameplates in different colors and styles. Our unique designs and shapes are perfect for all your house needs, whether it be office or home decor. We offer custom-made name plates that can be customized according to your specifications like size, shape as well as color. With Hitchki we make sure to give you the best product at affordable prices so that everyone can get their hands on one!
Conclusion
If you are looking to make a statement with your home and have an amazing time decorating it, Hitchki.in is the place to be. We offer a wide range of unique and beautiful personalized gifts that will make your house stand out from others, along with our high-quality nameplates which are sure to add personality to any room in your house.