Hitchki offers you a hut-shaped customized family nameplate with an affordable range. The nameplate nearby me has a hut shape design with the best designs for nameplates. Hitchki is the best site online to find the best home nameplate site online and affordable nameplates for homes. You can find the best designs for nameplates and customized house nameplates on this site. Customized hut-shaped wooden nameplates are available here nearby you on our site Hitchki.in, we are also offering custom-made wood signs in different shapes and sizes carved out of wood which will be used as your address sign or any other kind of decoration in the house garden, etc…
The Best Site For Hut Shape Design
Hut-shaped nameplates are available in a variety of designs, with or without an address and phone number.
The hut shape is a popular home design that can be customized to your own needs. We have a wide selection of hut-shaped custom nameplates to fit any home or office decor style.
Fresh Home Nameplate Design
Our hut-shaped personalized nameplates are made from the finest quality wood. We use natural materials to create a uniquely beautiful piece that will last for generations to come.
Hut-shaped customized home nameplates have become increasingly popular in recent years because of their simplicity and elegance. When you choose our hut-shaped wooden sign you can also add your family's address to make it even more meaningful for yourself or as a gift for someone else! Whether you're looking for custom signs nearby you or nationwide delivery options we've got it all covered here at Hitchki!
Home Nameplate Site Online India
Hitchki offers you hut shaped customized home nameplate. A nameplate nearby me is a unique way to express your love and affection towards the people who matter to you. Hut shape designs can be used as house name plates, steel name plates for homes, name plate designs for the main gates with addresses, and other such uses. Hitchki offers you an affordable range of hut-shaped customized home nameplates that can be used in different places like office buildings, residential houses, school buildings, etc.
Nameplates Nearby You
If you are looking for a home name plate in your area, Hitchki is the place to look. We have the best designs for name plates that are available at affordable prices.
You can add the following details to your hut-shaped customized home nameplate from Hitchki:
Your Name
Address of your Home
Contact Number
Customized Hut-Shaped Wooden Name Plates
Hut shaped nameplate is a customized name plaque. It gives you the option of choosing your own characters and font to customize the look of your hut-shaped wooden nameplates. You can also choose from a variety of colors, sizes, and shapes depending on your needs. These are available on both single or double sides for your convenience. You can order them online or even through phone calls with our customer service representative who will assist you throughout the process until it reaches your doorstep.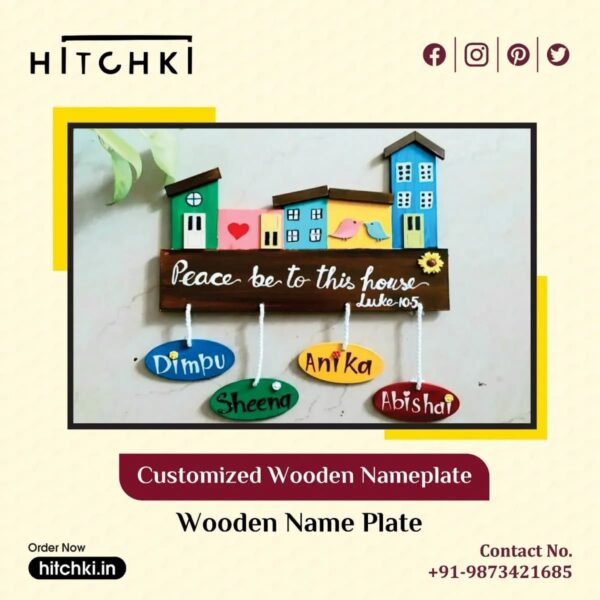 Conclusion
Hitchki offers you hut-shaped customized home nameplates, Hitchki offers you Hut shaped customized home nameplates, Hitchki offers you hut-shaped customized home nameplates and Hitchki provides hut-shaped custom-made wooden plates for homes.