A customized name plate is a small sign that is used to identify an individual or a business. A personalized name plate can be attached to your vehicle, wall, desk, and many other surfaces. These signs come in various sizes and materials like acrylic and aluminum. You can select from our wide selection of designs which includes custom car plates, acrylic letters, and numbers for laser engraving as well as customized wedding favor signs.
Nameplate Available With Us, Hitchki
Name Plates are available with us, Hitchki. You can choose any design of your choice and we would make it happen for you. We have a wide range of nameplates like personalized name plates, engraved name plates, gold-plated name plates, etc.
Customized Wooden Acrylic Name Plates
If you are looking for the best place to get customized name plates, Hitchki is the place for you!
With a wide range of name plates, Hitchki has something for everyone. Whether it's a simple design or one that's fancy and colorful, we have them all. Our team will help you pick out the perfect one so that your house looks amazing! We also offer different sizes so make sure to check them out before ordering yours today!
Our business was built on quality products and customer service at its core. When you purchase from us, we make sure that every step of the way is easy and convenient – even down to how easily our website works! So if you're looking for an affordable solution without sacrificing quality then look no further than Hitchki today!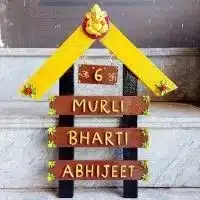 Name Plates Available at Affordable Price In India
Nameplates are available online in various shapes and sizes. As the name suggests, these are plates that have the name of an individual engraved on them. The process of making a personalized nameplate for your home is similar to that of stamping or engraving a metal plate on it. Nameplates can be made using different materials like wood, brass, copper and others depending on the design and preference of the customer.
Name Plates Near Me Online
Hitchki is the best place to buy customized name plates for homes near me. We are a leading nameplate manufacturing company with years of experience, that offers all kinds of customized name plates at affordable prices. You can also visit our website www.hitchki.in, where you can see various types of customized name plates available for purchase.
We provide high-quality products at reasonable prices and we have an excellent customer service team that will assist you with any query or concern regarding the product ordering process after sales services etc…
Customized Colorful Flower Name Plate
When it comes to nameplates, there is no such thing as too much customization. You can give your personalized name plate a pretty flower design or a simple gold one—the choice is yours!
The following are examples of how custom nameplates can be designed:
Nameplate with flowers and name
Nameplate with flowers, name, and color of font
Nameplate with different color flowers
Latest Designs And Ideas for Name Plates For Home
We offer a wide range of name plates for homes, as well as name plates for all types of homes. Hitchki is the best destination to find a unique and personalized nameplate that fits your style and personality. Choose from our large selection of designs or create your own with our Design Lab feature.
Get the latest Customized Name Plates With Us!!
Our nameplates come in a wide array of materials, so you can choose the one that best suits your style. From wood to metal, plastic, and ceramic, we have it all!
Take a look at the variety of our nameplates below:
Wood Name Plate
Plastic Name Plate
Metal Name Plate
Neon Signs
Marble and Stone
Conclusion
We at Hitchki provide the best services to our customers. You can contact our customer care executives for any query related to the customized nameplates. We will be happy to help you and make your experience of online shopping a pleasant one!