"HITCHKI "offers you the biggest collection of Beautiful Nameplate designs of houses – with substances ranging from acrylic, brass, ceramic, marble, steel, stone, and wood in Jaipur. Pick the perfect beautiful nameplate for your house in Jaipur from an in-depth variety of our nameplate designs. Having served many houses and places of work. Our makers craft all varieties of nameplates which are certain to rise up to your expectations.
We have door symptoms to fit all types of residential and industrial purposes in Jaipur. It is very important to choose the proper nameplate – you're going to see it each day for many years. In addition to selecting the right length, font style, the photograph has an identical significance. Our nameplate makers offer plenty of desire, The Most Beautiful Wooden Nameplate, stainless steel, granite, acrylic, and so forth.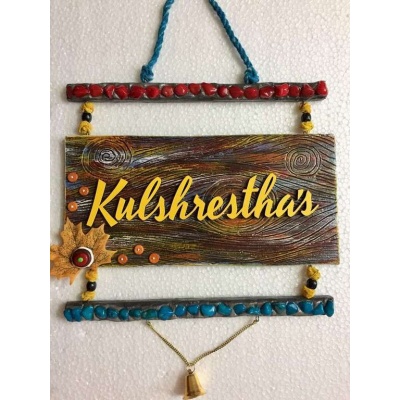 Pebble and Leaf Wooden Name Plate
Simple and elegant, the pebbles add colours, mapel leaves are used to give a natural touch. One long Surnames or 2 names can be adjusted in this nameplate. We have used Plywood as base,Work has been done in layers, We have used strong adhesives, layered it with coats of varnish. Text Limit- 12 letters
Size- 12*12 Inch
Unique Nameplates For House In Jaipur
We even offer various office Unique Nameplates and signal boards – suitable for plenty of places like conference rooms, assembly rooms, board rooms & office cabins in Jaipur. What's more – you could add a non-public contact to your desk and cubicle with Unique Nameplates for the House in Jaipur. Appropriate nameplate variations are available for hospitals, resorts, inn rooms, law firms, retail shops, branch shops, showrooms, faculties, faculties, and different establishments. Our years of knowledge in this discipline have attracted a big wide variety of clients to our organization. At "Hitchki" you can get the Unique Customized Nameplates which suit your historical past of operating or House area at a completely low-cost charge.
Zig Zag Twin Plank Natural Wood Name Plate
Two in One natural wood nameplate, with laser cut MDF Name Plate to hang on door or wall. Simple and Rusty Look of this Wooden Name Plate for your sweet house is uniquely decorated with Plywood MDF cut names which can be personalized as per requirement.
This name plate is beautifully designed for a pleasantly simple and attractive look with laser cut names.
Ronak Patel, Riya Patel RN Wooden Handmade Name Plate made with Plywood, MDF Cutting, Ganesha, Beads, Strings and Bells.
Colour- Light Brown
Material- Plywood, laser cut names, Ganesha Idol, Beads, Strings, Bells.
Size- 14*10