Seeking Out Where to Buy The Best Nameplates for Home? Get a customizable Best Nameplate to feature up to your home outdoors and make it look as lovely because of the interiors of your dream domestic. Hitchki.in gives you with excessive The Best and first-rate range customizable Nameplate that adds as much as the splendor and style of your private home from the out of doors, so the problem of Where to Buy The Best Nameplates for Home is resolved.
Much like how you are making your interiors fashionable and beautiful, it is important to make the appearance of your outsides the same as your insides and produce beauty to the general splendor of your property that you have designed so lovingly. Our custom Nameplates may be designed and customized in step with your preference of subject, finances, and layout. Get the nice Customized Nameplate with Hitchki, where you can get The Best Nameplates for Home and make your private home's exterior as fashionable and correct searching as your interiors.
Bal Krishna nameplate for Kanha lovers.A beautiful ethnic piece. The stones and bells are artistically presented, We have used Plywood as the base, Work has been done in layers, We have used strong adhesives, layered it with coats of varnish. Text limit-8-9 letters for Surname.
Size- 16*10 Inch
Buy The Best Nameplates for Home
Your Nameplate is the first matter that catches the eyes of your site visitors. Buy Your Home Nameplate custom designed and decorated consistent with your interiors and make it the primary and most main attraction of your own home. The Home nameplate provides as much as the beauty of your home and makes it the primary and essential enchantment of your dream home. We have in particular designed the Best Customizable Nameplate for the ease and comfort of our clients that can be styled consistently with the necessities and designs of your private home, you can buy the best nameplates for home from here.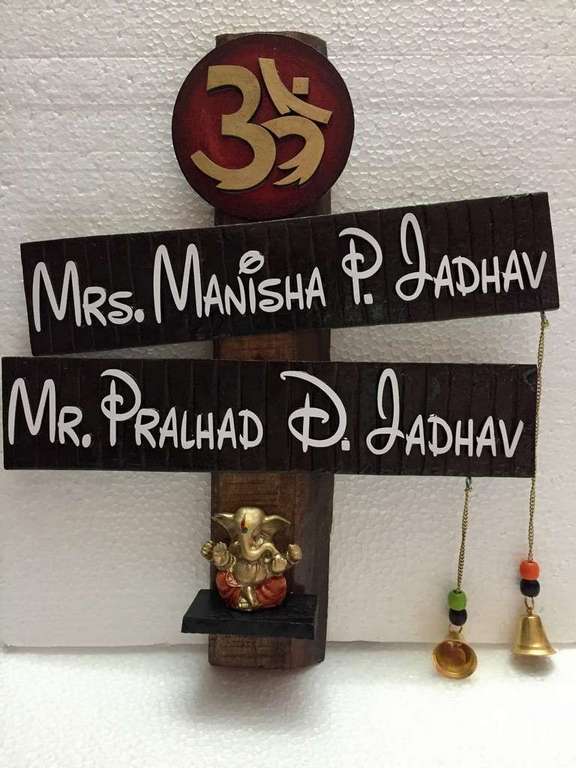 Its raw and distressedwood piece brings it close to nature and gives it ethnic look. Small Ganesha Idol is there for his immense blessings. We have used plywood for name boards and given lined texture. Used hanging bells to complete the ethnic look. Text Limit- 12-13 letters per line.
Size- 16*14 inch