Personalized wooden nameplate means a nameplate for the home which you can customize according to you. Customized wooden name plates by Hitchki are so beautifully customized according to the customer's need and customized wooden name plates look so attractive. Hitchki has the best wooden name plate designs for homes and their designs are so amazing and available for every type of home. Wooden name plates for home are very necessary for every home because it gives identity to your home. Hitchki also makes customized nameplates with photos as well, which will be more attractive and unique in style. House name plate designs by Hitchki are the world's best and unique designs at the best prices.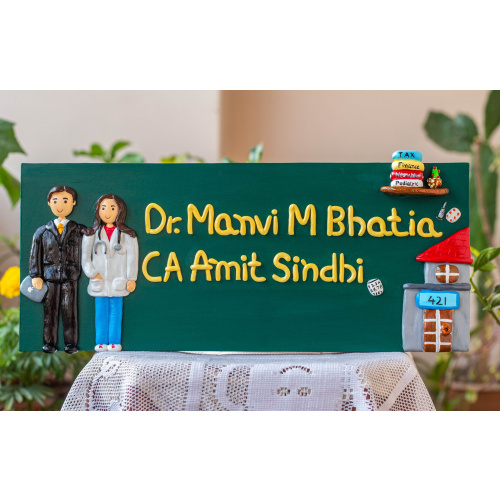 Doctor and CA-themed couple nameplate
This nameplate is designed for doctors and CA couples. Though it can be customized as per requirements. The board is made of MDF-based wooden material and clay work has been done. Names are also made with clay and painted in acrylic colour. And sealed with varnish. Two back hooks are attached. It is easy to maintain.
Size-17/7″
Wooden Nameplate Name Plate for Home
Handmade wooden nameplate nameplates for homes are very different. Hitchki is specialized in making handmade nameplates, and handmade nameplates have a different and traditional look and it enhances the grace of your home/house. Hitchki also makes steel name plates for home and Hitchki sells their name plates online all over the world and in India. Hitchki makes nameplates for everything like homes, houses, flats, apartments, offices, gardens, the door of a particular room, and many more. If you search on google nameplate for a home near me you will definitely meet Hitchki and there you will get the finest designs of handmade wooden nameplates for every door and for every home.
Nameplate Name Plate for Home in Wooden
Nameplates are of so many types like steel nameplates for homes, acrylic nameplates, ceramic nameplates, and many more, but the best nameplate that is of the best quality is wooden nameplates. Hitchki is best at making wooden name plates for home. Hitchki makes wooden name plates with photos, name plates board with light, and any customization you want, you can customize your nameplate. Hitchki's personalized wooden name plate for home, you can gift their name plates also. A handmade wooden name plate is also the best wooden name plate to give as a gift. Hitchki also takes orders online too, you can place an order and you can tell your imagination for the nameplate and they will make the nameplate at its best with the finest quality of the material.
Name Plate for Home in Wooden
Nameplates for a home in wooden are so trending nowadays and there are so many designs available in wooden and you can easily customize wooden nameplates for your home. You can be your own designer for your own nameplate. Hitchki can customize your nameplate according to your requirements. The wooden name plate for the front door name plate must be very beautiful and perfectly suitable for your home. Hitchki is a nameplate store to buy handmade wooden nameplates for home, or it can be anything.