Wooden nameplate designs must be so varied that they must be suited everywhere like on main doors, for your flats, home, house, apartments, or for the front door, for the table, and for everywhere. "Ghar Ka Name Plate" must be very designer and stylish. Hitchki has the best wooden name plate designs for home, their designs are perfectly latest and so in trend. Hitchki makes wooden nameplates with the best quality material and colours. Their nameplates are so attractive and eye-catchy in looks. You can have so many choices and options, you can have your nameplate at its best according to the theme and colour of your home. Hitchki makes its wooden handmade nameplates so gracefully that it will definitely increase the grace of your front door.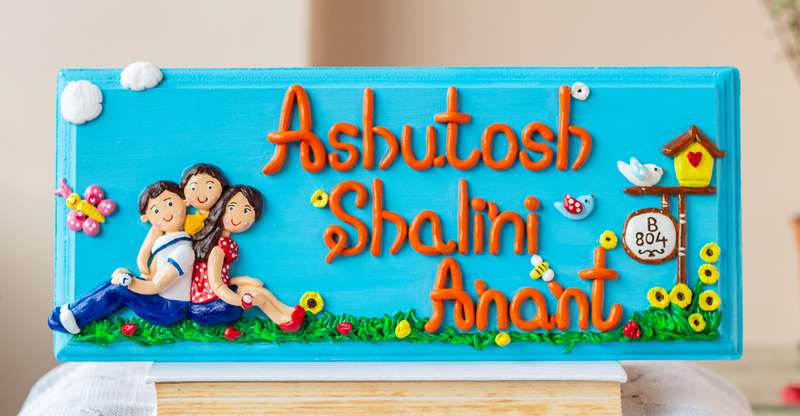 Couple-themed family nameplate
Beautiful, customized couple-themed family nameplate. It can be customized as per requirement. This is an MDF-based wooden nameplate, on it clay work is done. And sealed with varnish. Two back hooks are attached.
Size-14/7″
Customized name-call plates at your private home are something that is the first actual impact on the visitors at your home, and that must be eye-catchy, innovative, and in line with your wall. Hitchki makes the world's most great personalized wood nameplates in India. Their designs are so specific and fashionable that no one can withstand shopping for them. Hitchki makes its custom-designed wood nameplates so beautiful and colourful with a traditional touch. Hitchki can design whatever for you, you could feel free to explicit your imagination and the layout you want for your customized wooden nameplate. Nameplate designs for home by Hitchki are so exciting and well gracefully designed and it is perfectly priced worthy.
Hitchki is a high-quality maker of customized handmade wooden nameplates in India. Wooden customized name call plates are so in fashion nowadays. Customers need that their name call plate needs to be classy and rich in look due to the perfect name call plate being the number one that has an impact on your house or your room, workplace or it is able to be a few components. Hitchki makes homemade wooden custom-designed style fashion designer nameplates at their stage splendidly and at remarkable prices. They make handmade wooden newly styled nameplates with so many beautiful colours, that it looks n graceful on the door of the home and it also increases the grace of the door also. So, if you are thinking of buying a beautiful handmade wooden name plate for your home, you can directly go for Hitchki.