A nameplate is one of the essential identifying objects for your home. It can be used to identify your house or office. You need not spend too much money on this because our Indian Navy themed nameplates will do the same thing at an affordable price. These nameplates are the best way to proudly represent your profession. Hitchki has many such theme-based nameplates for home and office.
A Navy Themed Nameplates Is One Of The Essential Identifying Object For Your Home
A nameplate is one of the essential identifying objects for your home. It can be used for identification purposes, security purposes, aesthetic purposes, and practical purposes. Nameplates also help in making your house look more appealing and beautiful.
Nameplates have been around since ancient times but they have been used mostly by royalty and nobility because they were very expensive items made out of gold or silver or other precious metals or stones like diamonds or rubies etc… But today we find nameplates made out of plastic which costs much less than their earlier counterparts but still looks good enough to adorn any building or structure like houses offices etc…
Presenting Colorful And Attractive Indian Navy Themed Name Plates From Hitchki
Hitchki is a brand that offers a wide range of nameplates for your home and office. The nameplates are made of high-quality materials, and they come in various designs and colors.
Hitchki offers the best quality Indian Navy Themed Name Plates at affordable prices
These Indian Navy Themed Nameplates Are Best Way To Proudly Represent Your Profession
A nameplate is a great way to show your pride in your profession. They can be used in homes, offices and cars to proudly represent yourself as a member of the Indian Navy.
Nameplates are also a great way to show off your personality. If you're interested in something like astronomy or planes then you could have an airplane-themed plate! There are so many options when it comes to picking out what kind of design would look best on yours!
Hitchki Has Many Such Navy Themed Name Plates Based Nameplates For Home And Office
Hitchki has many such theme-based nameplates for home and office. It is an online shopping store, which specializes in selling products related to the Indian Navy. It has a wide range of designs and colors, so you can choose the one that fits your personality best!
Hitchki offers various types of customization options like engraving text or logos on their products as well as designing them according to your needs. You can even get your own design made by them if you wish so!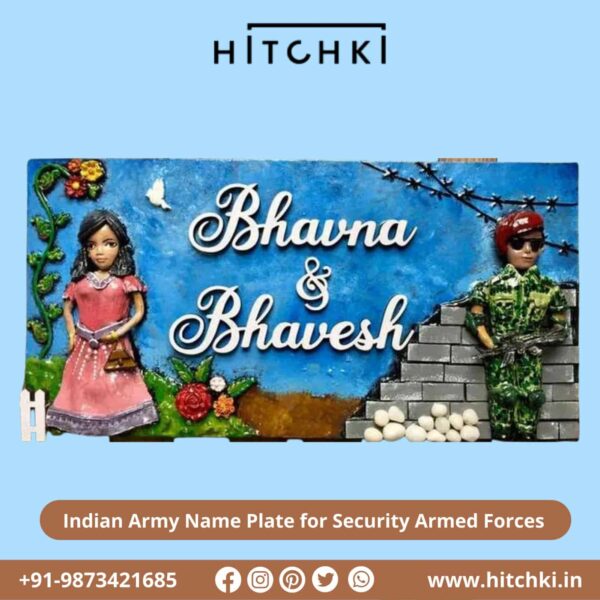 Customize Your Own Themed Nameplate With Affordable Price And Easy Access Over Design And Colours
The Hitchki is the only online platform that provides you to customize your own nameplate at affordable prices and easy access to design and colors. It is the best place to choose from a range of Indian navy-themed nameplates for home and office.
Conclusion
Navy themed nameplates are a great way to show your love for the Indian Navy and make a statement. They're available in many different styles and can be customized to suit your needs from Hitchki.