Hitchki is one of the top acrylic lettering manufacturers and suppliers in Delhi, India. We offer a wide range of high-quality products at affordable prices. HItchki has a team of experienced designers and engineers who are able to provide you with the best services. We have so many services from laser engraving to screen printing and digital printing etc. Shop for an acrylic nameplate in Delhi with Hitchki
Create Customized Acrylic Nameplates Online With Hitchki
Hitchki is a leading manufacturer of the acrylic nameplate in Delhi.
We offer customized acrylic nameplates online, which you can buy at affordable prices. We have a wide variety of acrylic nameplates to choose from and are known for our quality workmanship.
If you are looking for a nameplate for your home, office, or business, we have you covered. You can choose from our wide variety of nameplates to find the one that best suits your needs. Our acrylic nameplates are made with great care and precision so that they last for years without fading away or losing their glossiness.
There Are Many Options Available For Acrylic Name Plates
Acrylic nameplates are available in different sizes and shapes. They can be used for both indoor and outdoor purposes, depending on the material used to make them. The most common shapes of acrylic nameplates are:
Rectangle
Circle
Oval/Elliptical/Oblong (oval)
Acrylic nameplates come in a variety of colors that can be chosen by you as per your requirements. They are also available with different finishes like polished or matte finish depending on your requirement. Acrylic Name Plates come with different fonts which give an elegant look to them when mounted on walls or doors etc.,
How Acrylic Nameplates Are Different From Other Nameplates
Acrylic Nameplates are different from other nameplates in the following ways:
They are scratch-proof. The material used in acrylic nameplates is very durable, and it can withstand scratches from sharp objects such as keys, coins, and knives. This makes them ideal for use around children or pets who might be prone to scratching things up.
They're lightweight. Acrylics are made from a polymer resin that is much lighter than metals or stones (they weigh roughly half as much as glass), which means they won't add any extra weight on your doorframe when you hang them up there!
They're easy to clean–if you get something spilled on your acrylic nameplate while eating lunch at work then don't worry because all you need is some soap and water (or even just cold water) plus some paper towels/rags if needed; wipe off whatever mess has accumulated onto its surface area(s) until everything looks clean again! Note: Never use harsh chemicals like bleach though because doing so could damage its surface layer(s).
Hitchki Is Now Out With Its New Acrylic Letters Name Plate With An Attractive Design And Golden Letters
Hitchki is now out with its new acrylic letters nameplate with an attractive design and golden letters. They are offering these nameplates in Delhi with budget-friendly prices and a quality base.
Acrylic Lettering can be used as personalized gift items or corporate gift items to promote your brand image while giving away gifts like pens & keychains etc., on any occasion like birthday party celebrations, anniversary parties, etc., where you want people around you to remember about you even after a few years from now by just looking at the nameplate placed over their desks or cabinets, etc.,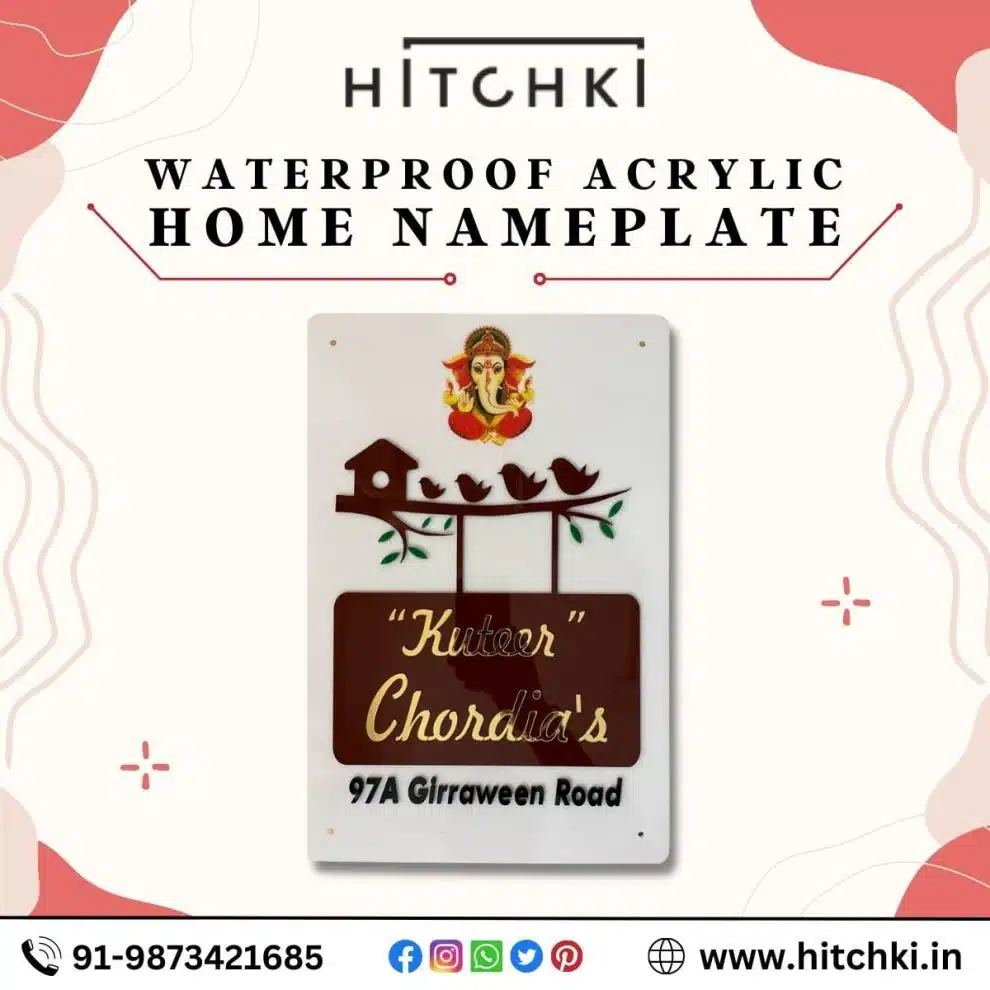 Hitchki Selling These Acrylic Nameplates In Delhi With Budget Friendly Prices And Quality Base
Hitchki is a startup that sells custom acrylic nameplates in Delhi with budget-friendly prices and a quality base. They have a wide range of options for acrylic nameplates, so you can choose the one which suits your needs the best. The company offers affordable prices for acrylic nameplates and provides a quality base for all its products as well.
If you're looking for an easy way to get high-quality custom acrylic nameplates then this is definitely your best bet!
Conclusion
Nameplates are an important part of your business. They help customers find the right product, and increase brand awareness among potential customers. Nameplates can be made from different materials such as acrylic, plastic, and metal. Acrylic nameplates have several advantages over other materials they are lightweight, durable, and easy to maintain.
Shop from Hitchki for the best discounts.