The first impression a visitor gets in your home is from your nameplate. A beautiful and amazing nameplate will make the visitor feel happy. While in search of a house name plate near me, you will meet Hitchki.in here we make customized designer house nameplates for you and make them available at your doorstep.
In this name plate cycle is parked in a beautiful garden, surrounded with colorful flowers and butterflies. There are stones around and a fence too. Isn't it looking beautiful. As base we have used plywood and worked with cement, stones and marbles, jute, flowers, wooden cuttings on it. This name plate is perfect for houses, apartments. 2 names can be written instead of big surname. Text Limit- 10-12 letters for names, House No- 6 letters. Different font are also available for customized designs.
The home made of walls and a beautiful name plate makes the wall complete. If you are in search of wooden name plate near me then this is the right place where you get your idol name plate for home at Hitchki.in These wooden name plate for home made while keeping in mind the real touch of wood and perfectly crafted to look beautiful and catch visitor's attention.
This wooden name plate is made on a peace of natural wood log. Buddha- the symbol of positive vibes, mental peace and calmness. To spread the positive vibes we tried to design this wooden name plate art piece keeping in mind his positivity that may influence our lives. Natural wood slice is used to keep the rustic feel, coats of varnish given for long life of the product. For text limit- 2 names can be added, max. 8 letters per name or can be used for surname.
Your home completes when the name plate is affixed showing the name of owner with pride. Stylish, beautiful marble nameplate neatly crafted by professionals enhance the beauty of your home. Hitchki.in provides the best quality, designer marble name plate near me when i am looking for name plate for home.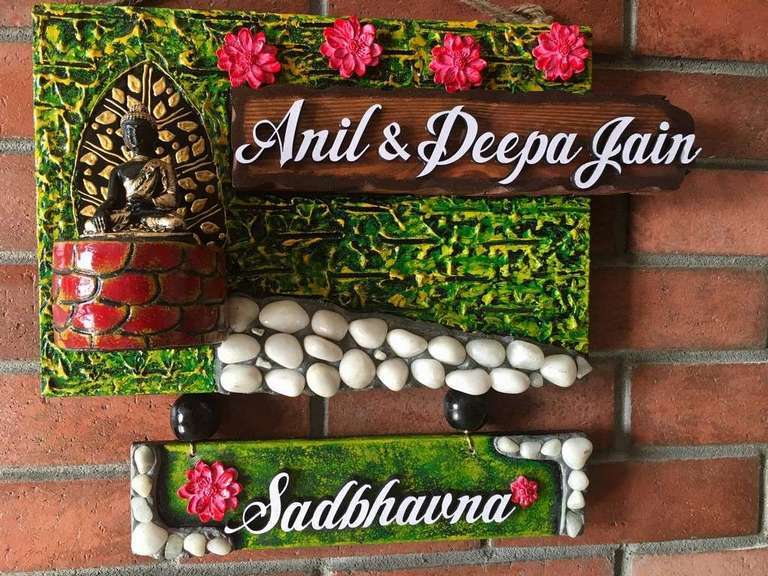 This beautiful name plate is perfectly crafted with marbles and wood. An absolute piece of art, beautiful nameplate. Buddha is fixed in its place, can be hanged on wall. Base in blue color is also available and idol of Buddha can be replaced with Ganesha. We have used Plywood as base, work has been done in layers, strong adhesives are used, layered it with coats of varnish. Limit of text is 14-15 letters (upper line), 7-8 letters( lower line)

Isn't beautiful to customize your home name plate? You can buy designer customized home name plate suitable for apartments, flats from here when you search for customized door name plate near me on Hitchki.in a website that helps you to design your home with these beautiful name plates for home.
An attractive customized nameplate for home crafted on wooden giving a brick wall look view. This brick and wall look makes it amazing look name plate. Surname/ sweet home plaques complete the look. Jute strings give it a rusty touch makes it a beautiful art. We have used Plywood for base, all texture is done with base powder, 2 long sticks are made with plywood and wrapped with jute string. Text Limit- 14-15 letters for names. Space on arrows is for Address or any suitable Text given by customer.
The first look of a visitor in on name plate of home and everyone wishes that it create a impact on visitor's eyes. These amazing name plate for home introduce the visitor and owner with pride. Your search of designer home name plate near me complete on Hitchki.in where you can design your home name plate with the help of professional handicraft artists of our team.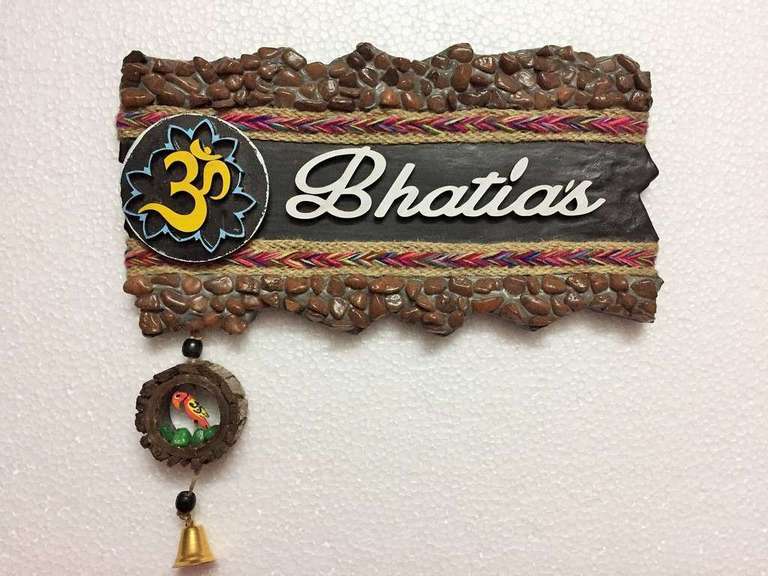 Beautifully crafted and designed nameplate for home made with brown stones, jute string and cute bird hanging makes it more near to nature. Om showing positive and power fullness of the name on nameplate. Its uneven design makes it different from regular shape name plates. The bird hanging is designed and made by our team. We text limit- 8-9 letters suitable for Surname's.