HITCHKI offers you Customized Gujarati Nameplates. We offer various types of nameplates like nameplates plans for homes, wooden nameplates, Engraved nameplates, nameplates with home numbers, kids nameplates with images, etc thus a lot more which are made by Hitchki. Nameplates are significant for flats, home, for the fundamental entryways, home front entryways, for room entryways, and you can hang it anyplace to give the personality of that specific spot. Here, you choose the perfect customized wooden nameplates for your home, apartment, flat, and office, etc. We can make nameplates in any language. Chat with us.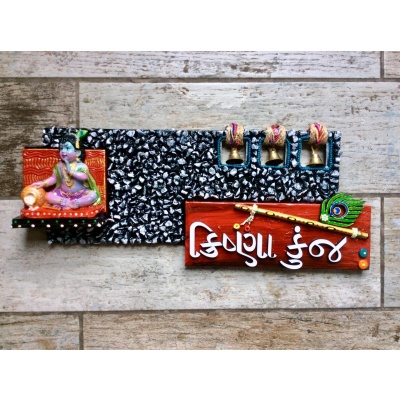 Bal Krishna nameplate for Kanha lovers in the Gujarati language. A beautiful ethnic piece. The stones and bells are artistically presented, We have used Plywood as a base, Work has been done in layers, We have used strong adhesives, layered it with coats of varnish. Text limit-8-9 letters for Surname.
Size- 16*10 Inch
Customized Gujarati Nameplates For Home
Hitchki makes the designer nameplates for the main gates of your home. Hitchki offers you great and superbly designed nameplates for the main gate throughout all over India with an exceptional fine. They make for you the first-rate and specific designs of nameplates for the main gate in India. Their offerings are to be had all around the world. Their designs are so antique and precise nobody can compete with them. Hitchki's team designs the designer nameplates for the main gate so beautifully that it may enhance the grace of the main gate and promises a very good impact for your guest.
Customized Gujarati Engraved Nameplates
This elegantly customized engraved nameplate is perfect for your home, office, flat, and apartment, etc. Our engraved nameplate makes for a meaningful yet affordable housewarming party gift. Hitchki offers the largest collection of customized wooden engraved nameplate designs online. Here, you choose the perfect customized wooden engraved nameplates for your home, apartment, flat, and office, etc from an extensive range of engraved nameplate designs. Our nameplate makers are always want to fulfill all your nameplate ideas.
Beautiful Customized Kids Nameplate In Gujarati
Most of the kids love cartoon theme-based nameplates and it will also look beautiful for the children's room. Hitchki makes so many different types of nameplates for the kids' room like Doll theme wooden nameplates for girls, Car nameplates, Rainbow kid's wooden nameplates, McQueen car kid's nameplates, Auto rickshaw kid's nameplates, Truck theme wooden nameplate, Sophia kid's nameplates, girly owl kid's nameplates, bird on a tree wooden nameplate, etc.