Hitchki is the best place to buy a Stainless Steel laser-cut light nameplate. We have a wide range of products that are made with the latest technology and have high quality.
Hitchki Is The Best Options For Stainless Steel Laser-Cut Light Name Plates
We are offering the best quality laser cut light Name Plates On Hitchki. Our nameplates are made of stainless steel which is more durable than any other nameplate material. Nameplates are available in different sizes and shapes, as well as colours.
These Are Made Of Stainless Steel Which Is More Durable Than Any Other Name-Plate Material
Stainless steel is a hard metal that can be used for many things. It is long-lasting and durable and it does not rust, which makes it ideal for use as a nameplate in your home.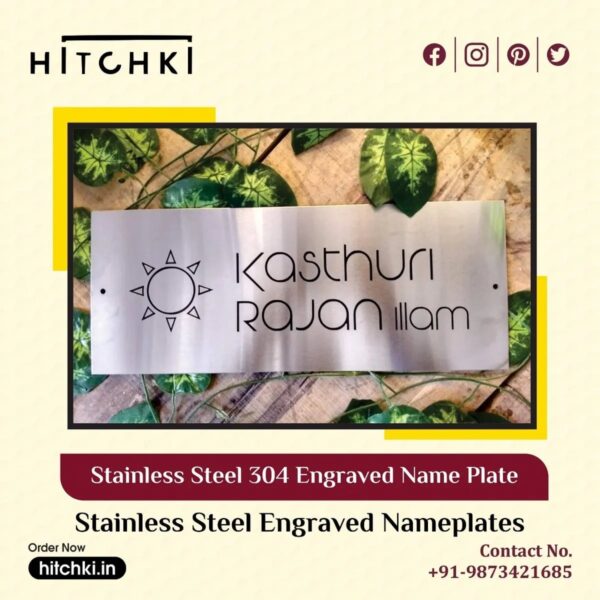 Low In Cost And Perfect For Your Walls And Doors
If you are looking for an affordable and durable product, the laser-cut light nameplate from Hitchki is the best option. This item is made of stainless steel, which makes it easy to clean and maintain. It can be used on your walls and doors, making it a perfect way to add elegance to your home or office.
We Are Offering Both Quality And Affordability On This Laser Cut Light Name Plate
You can choose from a wide range of designs and add your personal touch. We are offering both quality and Affordability on this Laser Cut Light Name Plate.
Our stainless steel nameplates are made using the best grade of stainless steel which is rustproof and corrosion-resistant, making them perfect for your walls and doors.
They are highly durable as compared to any other material like brass or aluminium. They do not get rusted easily, even after years of usage!
Buy It Today For Your Home And Office From Hitchki
As a trusted online shopping website, Hitchki offers the best deals on all products. If you are looking to buy Stainless Steel Laser Cut Light Name Plate then make sure you get it at the lowest price in India with free shipping. You can also avail of our 24/7 customer support services and enjoy peace of mind while ordering from us.
Conclusion
Hitchki has been in this business for a long time and you can trust us to deliver high-quality products. We have been working with some of the best engineers and designers who have years of experience in manufacturing such products. This means that if you order something from us, we will not only make sure that it's top-notch quality but also get them delivered within the promised time period.