Wooden nameplates give an attractive look to your entrance. Wood is the most popular material for house nameplates. Woods have a natural texture, grains, and colour that make them different from others. Even the small piece of wood gives an attractive feature.
HITCHKI is the platform at which you get your dream nameplate with a variation. Choose here the perfect nameplate with an attractive look for your home that makes your home different from others. We served 10k+ nameplates for homes, offices, apartments, flats, etc. Our nameplate makers are best suited to fulfil your ideas and desires.
A customized, handcrafted, wooden nameplate with beautiful, colourful floral arrangements. This is an MDF-based wooden material and on it, clay work has been done. And sealed with varnish. Two back hooks are attached. It can be customized as per requirement.
Size-14/11″
Engraved nameplate gives a good look for the entrance to your home, office, flat, apartment, door, walls, etc. Its inscribe onto a block, plate, or other surfaces by craving, or other processes. We provide customized engraved nameplates with different wood materials like Teak, Sheesham, Neem, etc. Our engraved nameplate makes for a meaningful yet affordable housewarming party gift.
Beautiful Teak wood Sheesham Wood wooden nameplate engraved with a name. This looks so classy and gives a rich look to your home.
Size – 18 x 9 inch
Handmade Wooden Nameplates For Home
They have so many designs of handmade wooden nameplates which will be acceptable for every wall and door. Hitchki makes customized nameplates, nameplates for home, wooden nameplates, house nameplates, door nameplates, customized nameplates, nameplates online, steel nameplates for home, nameplates for office, steel nameplates, nameplates for doors, home nameplates, nameplates for the house, royal nameplates, brass nameplates online India and if you write on google name plates near me, you will meet Hitchki, Hitchki is the finest maker of customized wooden nameplates in India.
Wooden customized nameplates are so in trend nowadays. People want that their nameplates should be classy and rich in look because the nameplate is the first impression of your home or your room, office or it can be anything. Hitchki makes handmade wooden customized designer nameplates at their level best and at the best prices. Their work is so fine and graceful you will love it work and you feel like the wooden customized nameplate is more than price worthy. Some of the wooden nameplate design names are the Wooden hut family nameplate, Good vibes only wooden nameplate, Ethnic Om wooden nameplate, Sun and Cloud wooden nameplate, Ganesh hut family nameplate, and many more. Hitchki has a huge collection of wooden customized nameplates in India.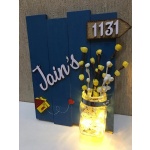 This an oval-shaped, jungle-themed kid's nameplate. It can be customized as per requirements. The base used is an MDF-based wooden board, on it clay work is done. Size-12/7″
Parents often like to adorn the doors of their children's rooms with nameplates. Hitchki provides you the amazing colorful kids' nameplates according to the kids' demands. Most of the kids love cartoon theme-based nameplates and it will also look beautiful for the children's room. Hitchki makes so many different types of nameplates for the kids' room like Doll theme wooden nameplates for girls, Car nameplates, Rainbow kid's wooden nameplates, McQueen car kid's nameplates, Auto rickshaw kid's nameplates, Truck theme wooden nameplate, Sophia kid's nameplates, girly owl kid's nameplates, bird on a tree wooden nameplate, etc in India.