A nameplate must be attractive and according to the person's personality. Parents often like to adorn the doors of their children's rooms with nameplates. Hitchki provides you the amazing colorful kids' nameplate according to the kids' demands. Most of the kids love cartoon theme-based nameplates and it will also look beautiful for the children's room. Hitchki makes so many different types of nameplates for the kids' room like Doll theme wooden nameplates for girls, Car nameplates, Rainbow kid's wooden nameplates, McQueen car kid's nameplates, Auto rickshaw kid's nameplates, Truck theme wooden nameplate, Sophia kid's nameplates, girly owl kid's nameplates, bird on a tree wooden nameplate, etc.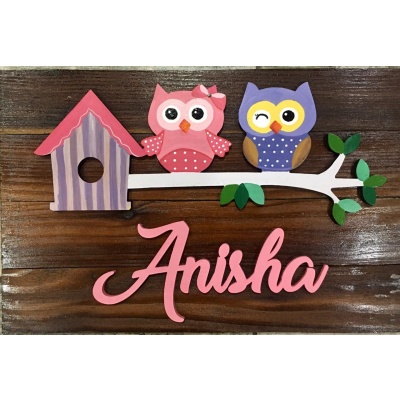 Cute Pink and Blue Kids Name Plate for Children
This is an Instant Happiness for your kids, Any space, any corner will be their own space when this cute twin Owl nameplate is on that wall. A beautiful gift for small Kids for any festive occasion or Birthdays.
Material- plywood base, veneer sheet, MDF cut owls, and name.
Size – 14×11 inch
Baby Nameplates Designs
Special nameplates for kids' make them very happy especially when it looks according to kids' choices, Hitchki makes every kind of nameplates. They are available in a multitude of styles and colors. Hitchki's creation is very attractive and eye-catching. The nameplates by Hitchki are of the best quality and the designs are very unique and lovable. The fonts of the names are also very creative. Hitchki gives its best quality to their customers. They have many lovely designs for the children like Animal theme kids nameplates, Tweety on the flowers kids nameplates, Creative corner jungle theme nameplates, Superhero nameplates for kids', Animal theme kids' nameplates, Birdhouse kids nameplates, and many more.
Baby Nameplates for Walls
Hitchki is the best nameplates seller in India. Their work, creativeness, art, designs are very attractive and lovely and suitable for every theme, especially for baby nameplates. Their nameplates are decorative and colorful which give a beautiful look to a wall and enhance the grace of a simple wall. Hitchki's specialty is they make handmade nameplates with grace. They have so many categories of baby nameplates like cute baby nameplates with sweet and eye-catchy colors customize with so many designs and creativity. The wooden handmade baby nameplates they made are of the best quality and they give at their best prices.