Hitchki makes the best designs of wooden nameplates for home. Their designs are so unique and impressive and perfectly suitable for every wall of your home. Hitchki's wooden name plate designs for home are so attractive and colourful that look so beautiful. They use so many types of different fonts that try to make a wooden name plate more attractive and beautiful. The impression of your home also will be very nice. Hitchki makes handmade wooden nameplates, and the quality of the wooden name plate is also very good. Wooden handmade nameplates designed for home by Hitchki are the best designs of nameplates.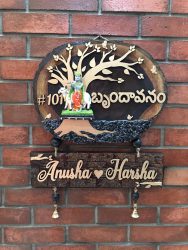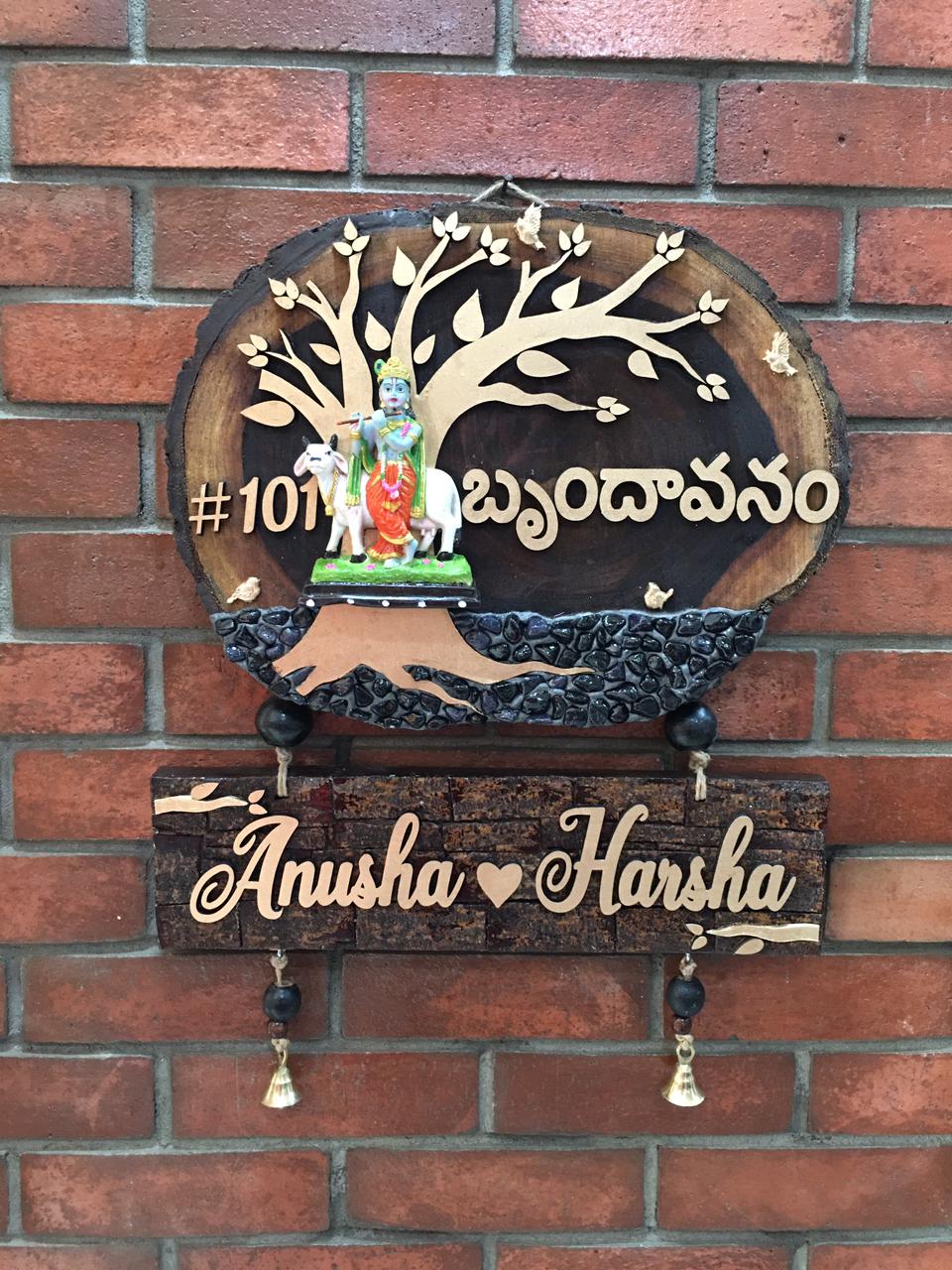 Lord Krishna Wooden Nameplate
Material- Sheesham wood log, tree bark, plywood, MDF laser cut tree and names, natural stones.
Description- Natural wood has its own charm, so we designed this nameplate with Sheesham wood, which has its unique light and dark-toned circles. Names and treess are lasers cut MDF wood. The upper part of the nameplate is a plywood base with tree bark pasted on it. Any text language can be done, and the design can also be customized.
Size – 17x 14 inch
Hitchki has so many categories of name plates for home-like Wooden Hut family nameplate with faces, Ganesh Hut wooden house nameplate, Zig Zag twin plank natural wood nameplate, Sun and Cloud wooden nameplate, Glow Jar Wind Chime nameplate, Wooden hut family nameplate, Beauty of Spring wooden nameplate for the door, Huge Name nameplate for a new home, Good Vibes Only wooden nameplate, Designer Plywood nameplate for Bungalow Garden, Flower and Om wooden nameplate, Ethnic om wooden nameplate, Hanging hearts wooden nameplates, Pebble and Leaf wooden nameplate, Mountain Hut wooden nameplate, Couple Statue wooden nameplate, Dream House wooden nameplate, Cris Cross Ganesha wooden nameplate, 3 in 1 Designer wooden nameplates, Buddha in the Woods wooden nameplates and many more.
Hitchki sells the best handmade wooden nameplates for home. Wooden plates at your home are something which is the first impression on a guest in your home, and that must be eye-catchy, creative, and according to your wall. Hitchki sells its products at their best prices. Art, colours, and the material they use in wooden name plates for home are of the best and most fine quality. They make their wooden nameplates for a home with fine artwork and elegance. The shape and designs of wooden name plates you can customize by your own ideas also. Customers of Hitchki are delighted with their services. Hitchki is the best seller of wooden name plates for homes.