Hitchki provides you with the best and beautifully designed wooden nameplates across all over India with the best quality and their services are also in Mumbai. Hitchki.in provide you with the best and unique designs in India. Their services are available all over the world. Their designs are so antique and unique no one can compete with them. Our team designs the wooden nameplate so beautifully that it can improve the grace of the wall and delivers a good impression on your guest. And especially we make the handmade nameplates which give a next level grace to your nameplate. Hitchki.in is the best seller of Handmade Wooden Nameplates in Mumbai at the best prices. Customers can also tell their requirements to them and they can easily customize their nameplates according to their requirements and their imagination.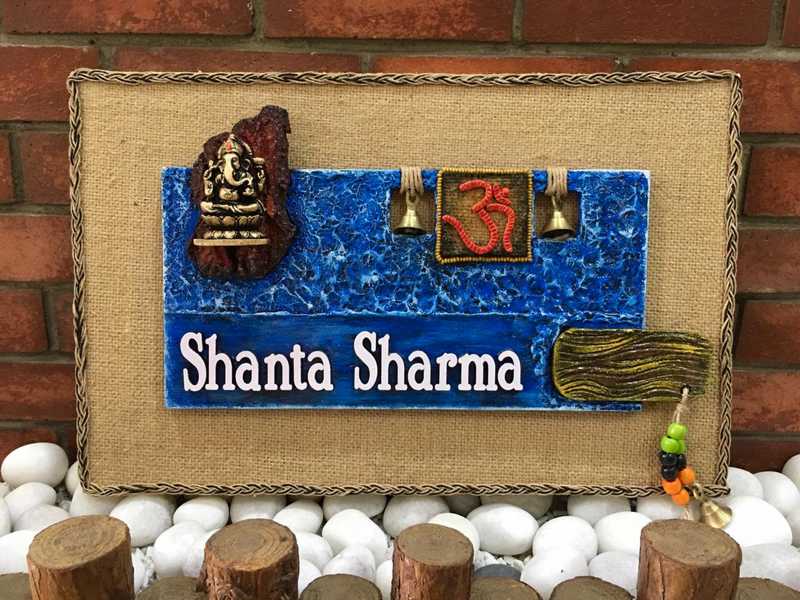 Om and Ganesha Wooden Name Plate
The tree bark and Ganesha give an ancient temple idol look, contrast colored Om and bells in a small hollow square give it a perfect look. The blue colour will look vibrant on light colour walls. We have used Plywood as the base, Work has been done in layers, We have used strong adhesives, layered it with coats of varnish. Text limit-7-8 letters
Wooden Nameplates in Mumbai
Hitchki's specialty is making handmade traditional-looking nameplates with amazing beautiful colors with an Indian essence that looks extremely beautiful. Customer can customize their nameplates according to their designs because all they want is customer satisfaction. Wooden Nameplates by Hitchki looks very attractive. The creative artwork on the nameplates is the specialty of Hitchki. If you are finding for unique and attractive nameplates in Mumbai, Hitchki.in send their creative Wooden Nameplates in the whole of India as well as in Mumbai too. Nameplates are just put up to let people know who are the people staying inside those closed doors but also a mirror of relationships between people residing in a house. Here's what counselors decipher about different types of nameplates.