Granite Laser Name Plate is a great way to display your name and logo at home or in the office. These Granite Marble Laser Name Plates are durable and water-resistant so you can be sure that your nameplate will last for years. One of the best things about these nameplates is that they have a variety of options available to choose from, so you can get exactly what you need for your company or home.
New Granite Marble Laser Name Plate From Hitchki
Hitchki is a leading manufacturer of laser nameplates in India. We have been making granite marble laser nameplates for more than a decade and have built a reputation for providing quality products with excellent service.
We offer multiple options for laser nameplates, including custom-made ones that can be designed to your specifications. Whether it's a corporate gift or personal use, Hitchki will help you find the perfect granite marble laser nameplate online at an affordable price!
The Marble Granite Laser Engraved Name Plate Can Be Used For Multiple Applications
It can be used as a corporate gift, home decor, and office decor. The Marble Granite Laser Name Plates have a polished finish that makes them look great as wall hangings or on desks. They are also suitable for mounting on walls with screws or nails so you can display your name in style! You can use the Marble Granite Laser Name Plate for multiple applications.
Laser Name Plate Is Perfect For Corporate Gift Or For Your Home And Office
Laser nameplates are perfect for corporate gifts or for your home and office. The laser-engraved name plates can be used for multiple applications including offices, homes, businesses, and more.
Laser-engraved nameplates are durable and waterproof so you don't have to worry about them getting damaged or fading away over time.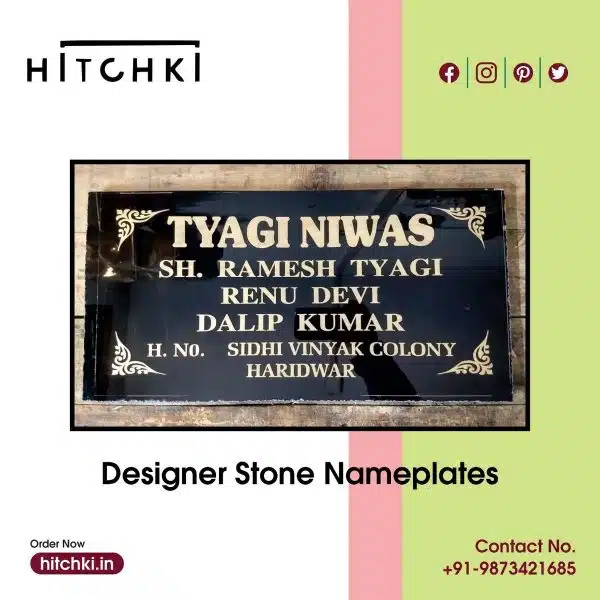 Hitchki Has Multiple Options Available Along With The Option For Customizes Nameplates
Hitchki has multiple options available along with options for customized nameplates. You can choose from different sizes and shapes, colors, fonts, and materials.
Granite Marble Is Durable And A Waterproof Option For Long Years
Marble is a natural stone and is used for building and construction. It is also known as the "King of Stones". Marble is a durable material that can withstand heavy weight. It has been used in various places including monuments, statues, etc. Marble has high strength which makes it a long-lasting and waterproof option for years to come
The main reason why people prefer marble over other stones like granite or sandstone is that it looks elegant and gives an elegant look to your home when used for flooring or other purposes like making sculptures out of them
Get Your Own Granite Marble Laser Name Plate Today At Affordable Price
Granites are available in a wide range of colors and patterns, making it easy to find a granite that matches your taste. Granite Marble Laser Name Plate Online is one of the most popular types of stone used for kitchen countertops and bathroom vanities because it's durable and scratch-resistant.
You can order your own custom laser-engraved nameplates today with just a few clicks on our website! We offer fast shipping so you'll have your new custom-engraved nameplate in no time at all!
Conclusion
Granite Marble Laser Name Plate is the perfect way to express your love for someone or something. You can personalize your own nameplate with any design that you want. This will make a great gift for anyone who appreciates fine craftsmanship and style. Shop today from Hitchki.