Are you on the lookout for a unique and elegant way to personalize your space? Look no further than acrylic nameplates with the enchanting Bansuri design. One such detail that can effortlessly elevate the aesthetics of your space is the acrylic nameplate. These stylish and customizable nameplates not only serve a functional purpose but also add a touch of sophistication to your home or office. At Hitchki, we bring you a curated collection of acrylic nameplates featuring the exquisite Bansuri design. In this article, we'll delve into the world of acrylic nameplates and explore why the Bansuri design is the perfect choice to adorn your space.
Bansuri Acrylic Nameplates: Capturing Musical Elegance in Art
The Bansuri, a traditional Indian bamboo flute, is known for its soul-stirring melodies and cultural significance. Its serene notes have been embraced by artists, musicians, and enthusiasts alike for centuries. Now, imagine capturing the essence of this timeless instrument in the form of an acrylic nameplate.
Our Bansuri-inspired acrylic nameplates are crafted with precision and artistic flair. The intricate design mimics the grace and elegance of the Bansuri, making it a symbol of not just your name but also your appreciation for art and culture.
Acrylic Nameplates: A Blend of Elegance and Versatility
Acrylic nameplates have surged in popularity due to their versatility and longevity. When you choose an acrylic nameplate, you opt for an exquisite piece that stands the test of time. These nameplates are renowned for their:
Durability: Acrylic is a robust material that can withstand the test of time. Your Bansuri-inspired nameplate will remain as vibrant as the day you bought it, resisting fading and wear.
Elegance: The crystal-clear surface of acrylic exudes sophistication. The Bansuri design, delicately etched on this flawless canvas, creates an unparalleled aesthetic appeal.
Versatility: Whether you want to adorn your home, office, or gift it to a loved one, acrylic nameplates with the Bansuri design effortlessly fit any setting.
Endless Customization: At Hitchki, we believe in the power of personalization. Our acrylic nameplates can be tailored to your unique preferences. Choose from a range of sizes, fonts, and colors to create a Bansuri nameplate that is truly one-of-a-kind. Add your name, a special message, or even a meaningful quote to make it your own.
Why Choose Hitchki?
When you shop at Hitchki ,you are not just purchasing a product; you are investing in quality and craftsmanship. Our Bansuri-inspired acrylic nameplates are meticulously designed and produced to meet the highest standards. We take pride in delivering:
Artistic Excellence: Our team of skilled artisans pour their heart and soul into every nameplate, ensuring that the Bansuri design is a true work of art.
Customer Satisfaction: We value our customers and their trust in us. That's why we go the extra mile to ensure your experience with Hitchki is nothing short of exceptional.
Affordability: Quality need not come at a steep price. We offer competitive rates, making luxury accessible to all.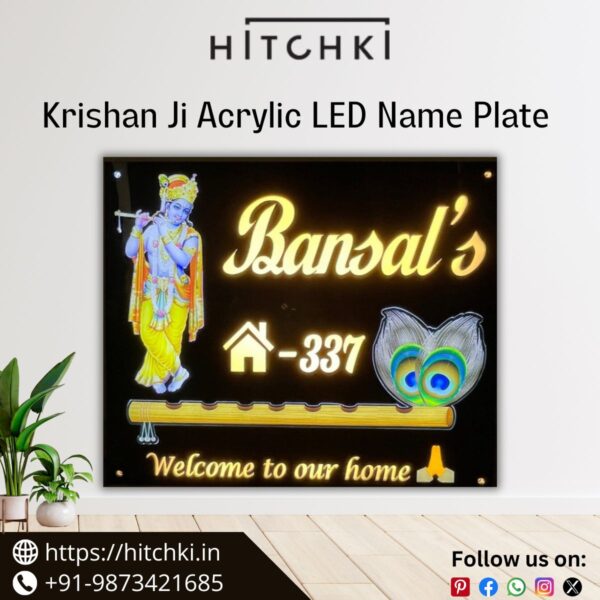 Conclusion
Acrylic nameplates with the enchanting Bansuri design are more than just decorative pieces; they are a testament to your appreciation for beauty, art, and culture. Whether you wish to add a touch of elegance to your home, make your office space more inviting, or surprise a dear one with a thoughtful gift, our Bansuri nameplates are the perfect choice.
At Hitchki, we believe in transforming spaces and creating lasting impressions. Explore our collection of acrylic nameplates today and discover how you can elevate your surroundings with a touch of Bansuri-inspired artistry.