Art and craft have already been the centre of attraction in different places. Be it in the household, commercial, public place, or any other internal or external area, artworks make the environment goes lively and attractive. People invest a lot in eye-catchy decorative items like antique pieces, divine products, light decor, and more on Hitchki.
Several individuals are always in search of useful yet attention-grabbing decor products to enhance the appeal of a particular area. Moreover, some of you want some festive-related things within the house and decorate the surrounding areas with ease.
Now, instead of running across different shops for selecting the best decoratives or accessing numerous online platforms, simply land digitally at Hitchki. Just like the unique name of the brand, it is a distinctive art and craft-related enterprise that offers an extensive range of decorative, useful, and household accessories.
You can access the platform from any device and at any point in time to check out the collection of thousands of enticing and best-price products as per the requirement. Whenever you feel the need to decorate your household area, organize things at home, brighten up the area, make a style statement, or customize surroundings, Hitchki brand is here to assist you round the clock.
Find the Wide Range of Hitchki Products
Online art and craft brands have no shortage of products under their widespread arsenal. Customers looking to buy one thing will surely add more products to the cart and add the buy button while dropping at the platform. Find here some of the interesting and hard-to-ignore products range of the brand that is most popular and highest buying across customers.
1. Hitchki Name Plates
You might be surprised to find a wide array of nameplates available on the Hitchki platform. Unlike the dull and bring steel-looking nameplates, the brand offers something fresh, sparkling, durable, and long-lasting. It is a specialized range of different sizes, artistic patterns, customized, and a designer choice of plates available to add any name.
The brand offers authentic-looking wooden and steel nameplates along with trending acrylic nameplates in different ranges. The best part of the category is the colourful, divine figures equipped, with artistic, and intricate nameplates available in different materials. It is up to your requirement to select any nameplate, customize the same with your name, and easily hang it outside the house. Moreover, the brand further offers nameplates for specific room doors in the household area.
2. Key Holders
Another key product range of the Hitchki brand is key holders. Not everyone understands the relative importance of hanging a small to large-size key holder inside the house. Since keys are the most important thing that requires proper care and attention must not stay unorganized inside any area.
Nobody wants to lose the important home main door keys, bedroom keys, car keys, garage keys, or any other. Thus, you can shop for designer and trendy-looking key holders with two to six hooks. Simply choose the design you like in the form of a forest theme, modern-day pattern, or any animal figure choice of product.
3. Tea Lights
Laying hands on traditional and authentic things is a special way to lighten up any area you like. Despite having different types of electrical lighting options, nothing can beat the exquisite charm of Tea lights. These are the decorative divine and artistic-looking statues for tabletop or wall mount with a small candle fixed in the middle.
You can lighten up the temple, bedroom, living room, or any area other with authentic light and bestow a magnificent temptation around. Here at Hitchki, find an exotic range of Buddha wood log tea lights, queen-themed decorative tea lights, Ganesha wall mount mirror and stone tea light, a customized maroon tray with a candle stand, and various other options.
4. Kettles
Serving tea or even hot water using a traditional style steel kettle reflects the old-world charm at its best. Hitchki offers an exclusive range of designer, colourful, and artistically designed Kettles of the traditional style to light up your tabletop area.
Not just for pouring tea or hot water inside, buy any design of kettle from the brand to decorate your surroundings. Guests arriving at home will surely get attracted to such kettles and want to have one for them. Find the handcrafted, personalized designed, handpainted kettle, African art-themed kettle, love-themed kettle, and several other varieties of your choice.
5. Human Figure Crafts
People are always attracted to decorative items having colourful human figures engraved or designed. Such designer products offer a personalized set of the family for you to buy anything having two or three human figures designed as per your family members. Concerning the same, Hitchki offers colourful nameplates, coffee mugs, designer kettles, and several other products with figures designed on the same.
As for nameplates, shop for customized ones by designing several family members, their actual figures, and their name engraved on the same. Similarly, design coffee mugs, kettles, wooden plates for doors, and other such products with ease.
6. Decorative Products
Showpieces, light decor, idols sculptures, candle holders, tabletop decoratives, and vintage items never go out of style. No matter, if you are looking to create a personalized decorative appeal in your empty household area or wish to revamp the current outlook. Hitchki offers a vast range of decorative products with lights, wall art, tabletop decor in artistic shapes & patterns, artistic candle holders for natural light, and the list goes on.
Find your pick on the Hitchki platform without going anywhere else and make sure to enhance the overall outlook of the home area. You can buy one or more decorative products as per your choice and that too in a cost-effective manner.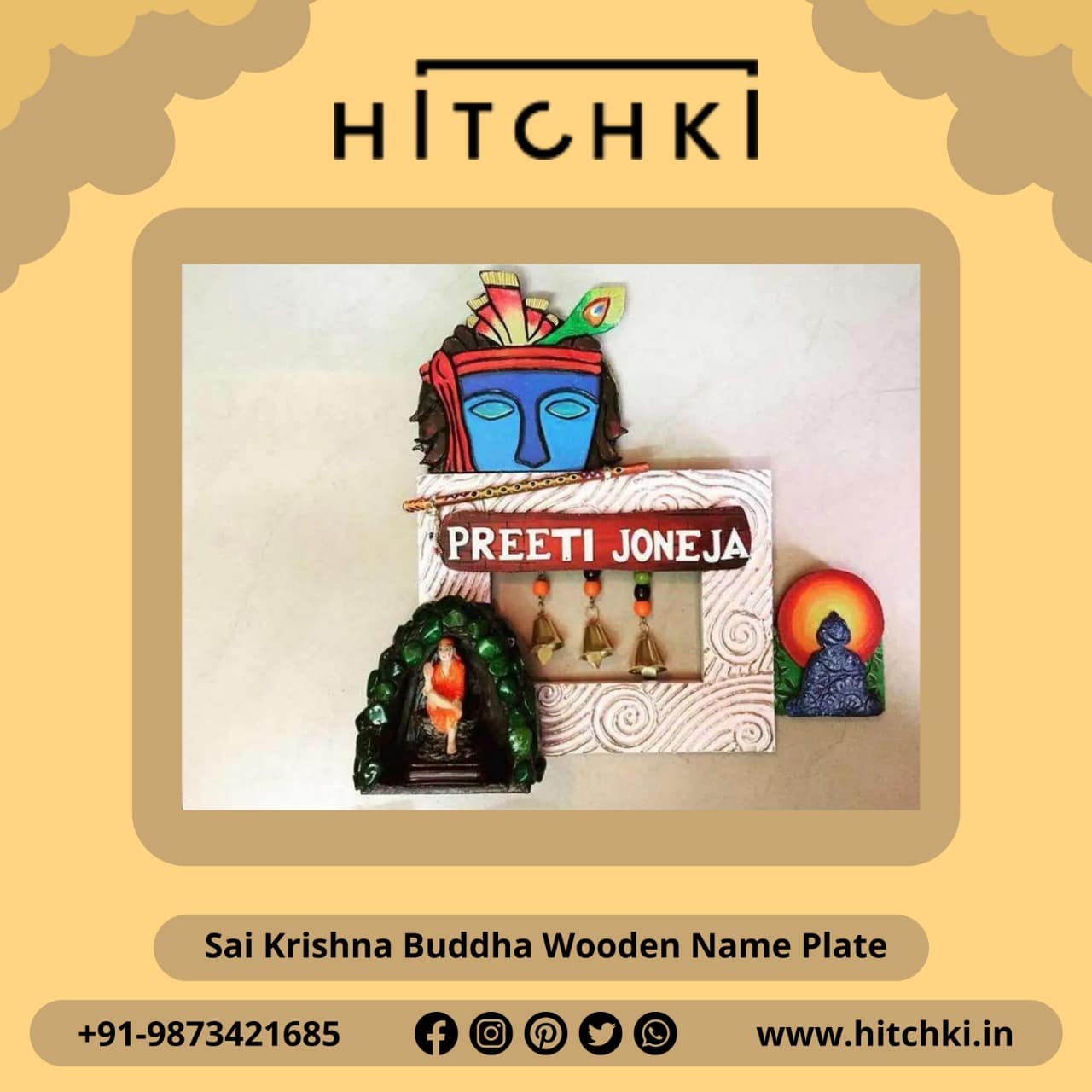 Buy Artistic Items & Decorative Products @ Hitchki
Hitchki delivers happiness, creativity, a smile, and a personalized decorative appeal to all the customers. Be a home interior designer yourself by picking the right and attention-grabbing decorative items of your choice. Access the platform on any device and filter out the best choice of decor items.