This is a waterproof acrylic nameplate that can be applied to the door of your home. The nameplate is made of high-quality material and it can withstand harsh conditions. It also has a beautiful design that makes it look elegant.
Waterproof Acrylic Nameplate Is Best For Your Place
You are at home or the office and you want to put your name on a nameplate. You would like something that is strong and durable, easy to clean, long-lasting, and customized with fonts and designs of your choice. Well, a waterproof acrylic nameplate is best for you. It will look good in any place whether it's your home or office because this material is strong enough to withstand any conditions that may come it's way such as water spillage from the sink but it can be cleaned easily without having any scratches on it!
Customized Acrylic Nameplate Are Best With Fonts And Designs Of Your Choice
You can choose the font and design you want. Choose the size of the nameplate, whether it be small or large. You can also choose the thickness of acrylic for your nameplate, which will depend on how much weight it needs to hold up against wind or water pressure.
This Acrylic Nameplate Is Strong, Durable, And Long-Lasting
Acrylic is one of the strongest materials available, and it's also extremely durable. Acrylic nameplates are long-lasting and will not fade over time like other materials can, making them an ideal choice for your home or business.
The acrylic nameplate is made from a high-quality acrylic material that makes it resistant to scratches and cracks. The surface of this acrylic nameplate has a matte finish which prevents reflections from showing up in photographs taken at different angles around it (this is especially helpful if you want to hang something outside).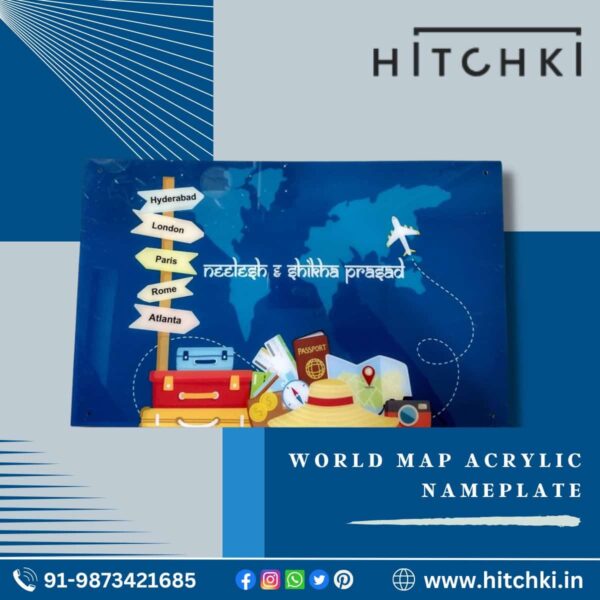 The Nameplate Is Offered In Different Sizes And Thicknesses
The nameplate is offered in different sizes and thicknesses. The sizes are measured by the height and width of the nameplate. Thickness refers to how thick or thin your acrylic nameplate will be, which affects its strength and durability.
The acrylic nameplates come in a variety of colors including black, white, red, blue, and green. We also offer custom colors upon request!
Buy One For Your Home And Office From Our Online Portal
You can buy one for your home and office from our online portal. The acrylic nameplates are available in various sizes, thicknesses, colors, and fonts.
Conclusion
If you are looking for a nameplate that will last longer and look great, then this is the right product for you. We offer our customers high-quality products at affordable prices. These nameplates can be customized as per your requirement and choice of the font at Hitchki.