Customized wooden nameplates at your home are something that is the very first impression on the visitors at your home, and that must be eye-catchy, creative, and according to your wall. HITCHKI makes the world's best customized wooden nameplates in Jaipur. Their designs are so unique and stylish that no one can resist buying them. Hitchki makes its customized wooden nameplates so beautiful and colourful with a traditional touch. Hitchki can design anything for you, you can feel free to express your imagination and the design you want for your customized wooden nameplate.
This is a combination of ethnic and contemporary elements. We used a plywood base and worked with craft clay to make the texture. It can accommodate 2 names on the top plate and one text on the bottom.
Stones and Ganesha are adding to the ethnic look. This is a beautiful art piece for your home entrance
HITCHKI provides customized engraved nameplates with different wood materials like Teak, Sheesham, Neem, etc Jaipur. This elegantly customized engraved nameplate is perfect for your home, office, flat, apartment, etc. Our engraved nameplate makes for a meaningful yet affordable housewarming party gift. Hitchki offers you Jaipur's largest collection of customized wooden engraved nameplate designs online. Here, you choose the perfect customized wooden engraved nameplates for your home, apartment, flat, office, etc from an extensive range of engraved nameplate designs. Our nameplate makers always want to fulfil all your nameplate ideas.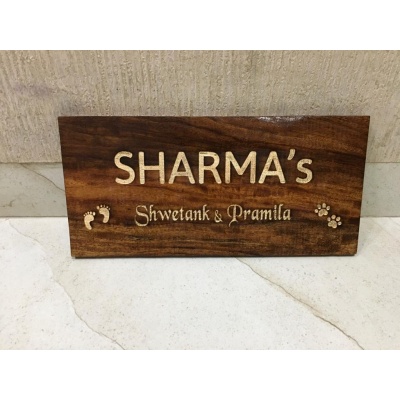 Beautiful Sheesham Wooden Nameplate engraved with the name and it is amazingly styled which gives a beautiful look to your home.
A nameplate must be attractive and according to the person's personality. Parents often like to adorn the doors of their children's rooms with nameplates. Hitchki provides you with amazing colourful kids' nameplates according to the kids' demands in Jaipur. Most of the kids love cartoon theme-based nameplates and they will also look beautiful in the children's room. Hitchki makes so many different types of nameplates for the kids' room like Doll theme wooden nameplates for girls, Car nameplates, Rainbow kid's wooden nameplates, McQueen car kid's nameplates, Auto rickshaw kid's nameplates, Truck theme wooden nameplate, Sophia kid's nameplates, girly owl kid's nameplates, bird on a tree wooden nameplate, etc in Jaipur (Rajasthan).
Animal Theme Kids Creative Unique Nameplate. We can increase the letters of names at an extra cost. That will increase the length of the nameplate too.
Plywood base, Jute string, Laser cut names, and animals
Size= 12×14 Inches
Name Plates for the main gates must be very designer and attractive because it is the first impression of your home. Hitchki makes designer nameplates for the main gates of your home. Hitchki offers you great and superbly designed nameplates for the main gate all over India with an exceptional fine. They make for you the first-rate and specific designs of nameplates for the main gate in India. Their offerings are to be had all around the world. Their designs are so antique and precise that nobody can compete with them. Hitchki's team designs the designer nameplates for the main gate so beautifully that it may enhance the grace of the main gate and promises a very good impact on your guest. And particularly we make handmade nameplates that offer a next-degree grace to your main gate nameplate. Find here fancy customized wooden nameplates for home, main gate, apartment, door, flat, etc.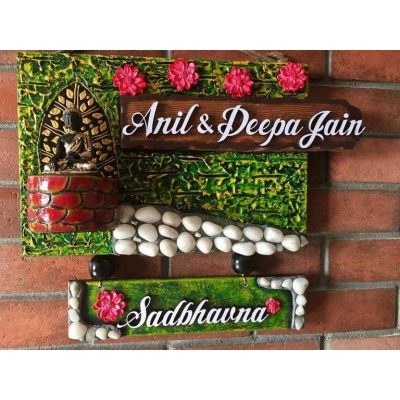 An absolute piece of art, a beautiful nameplate. Buddha is fixed in its place and can be hung on the wall. Buddha's idol can be replaced with Ganesha. A blue colour base is also available. We have used Plywood as a base, Work has been done in layers, We have used strong adhesives, and layered it with coats of varnish.Text limit- 14-15 letters (upper line), 7-8 letters( lower line)
Hitchki provides you with the finest and superbly designed wooden nameplates with a number of flats across all over India with quality exceptional on the nice charges. They use the pleasant satisfactory material in making wooden nameplates for the home, or for the flats which will remain the same for such a lot of years.