Wooden house name plate is not just a work of art and beauty, but also adds a touch of class to your home. The special wood and design make them attractive, durable, and unique. You can choose from several designs that suit your taste and needs. Today we have this Ganesha hut design wooden name plate.
Wooden House Name Plate Is A Very Important Part Of Your Home
Wooden house nameplate is a very important part of your home. The day you buy your house, you want to make sure that it has a wooden house name plate. It's really important because it gives off an impression and shows who lives there, so if someone sees this they will know who lives in that home and what their name is!
Hitchki Has This Ganesha Hut Design Wooden House Name Plate
Hitchki is a one-stop destination for all your home decor needs. We have a wide range of wooden house name plates, and the Ganesha Hut Design Wooden House Name Plate is one of our most popular designs. It's made from premium quality bamboo, which means it won't warp or crack even after years of use!
This Ganesha Hut Design Wooden Name Plate Will Look Beautiful On Your Walls And Doors
A name plate is a great way to add personality and style to your home. Whether you're looking for something simple or something with a bit more flair, there are plenty of options available at Ganesha Hut Design. Name plates can be used to personalize your space by displaying the names of family members or loved ones who live with you, as well as pets!
If you're looking for something fun and unique, we have a wide selection of wooden house nameplates that will add some life to any room!
Best Wooden House Name Plate To Go With Your Taste And Personality
This Ganesha Hut Design Wooden House Name Plate will look beautiful on your walls and doors. It is made from the finest wood, which makes it durable. The design of this name plate is also very elegant, so you can use it in any part of your house. You can check out the latest nameplates and home decor items online at Hitchki!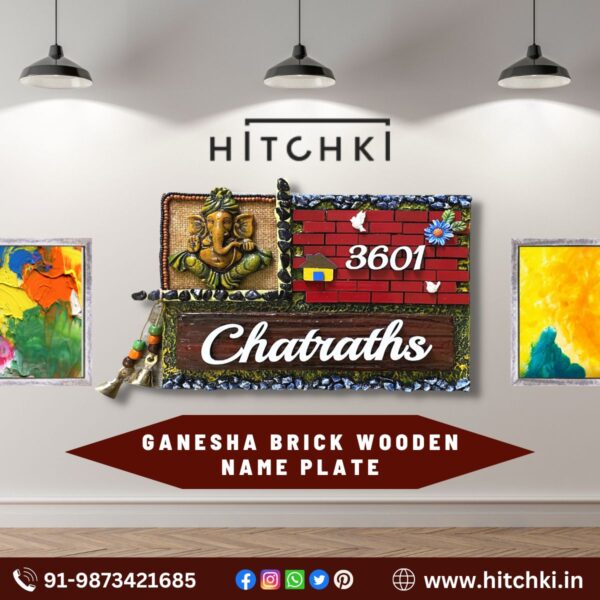 Check Out Latest Name Plates And Home Decor Items Online At Hitchki
Check out the latest name plates and home decor items online at Hitchki.
Add to cart.
Checkout.
Pay for your order, and you're done!
Conclusion
We hope you enjoyed our article on wooden house name plates. If you want to buy one for yourself, then we suggest you check out Hitchki's collection of wooden nameplates online. You can also see some other designs like "Ganesha Hut". We wish you a happy shopping experience!