Nameplates are the most popular way to identify your home or office. You can opt for an engraved wooden nameplate, which is widely available and offer several benefits, such as durability and affordability. A well-crafted engraved nameplate is a great way to create an elegant touch in your style. As Hitchki is one of the leading manufacturers of wooden nameplates in India, we have all it takes to provide you with branded products that match your budget perfectly.
Engraved Wooden Nameplate Are The Best Way To Identify Your Home
A nameplate is a metal or wooden plate that has been engraved with the name of a person, business, or organization. They are usually used on doors and gates to identify who lives in the house.
In fact, it's not just homes that benefit from having an engraved wooden nameplate – businesses can also reap many benefits by using them!
Engraved Customized Wooden Nameplates To Match Best With Your Taste
At Hitchki Buy Wooden Nameplate :
With Affordable Price
With Different styles and shapes
Customizable to suit your taste
Durable
These customized wooden nameplates can be used for home, office, or as a gift. They are available in different styles and shapes. You can easily customize them according to your taste.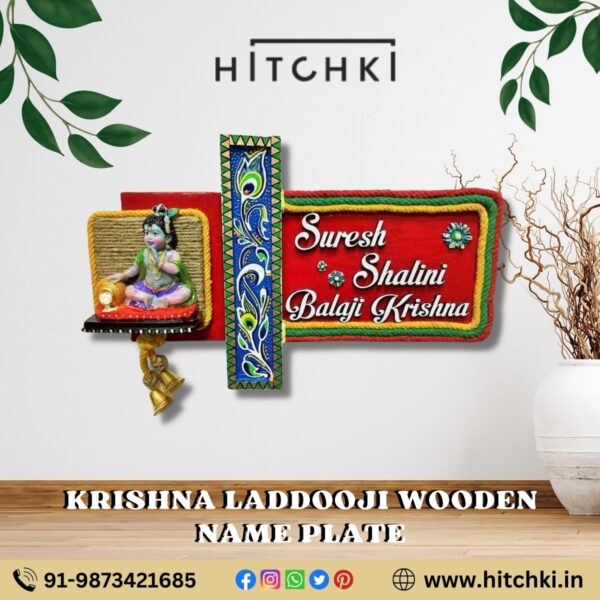 An Artistic Engraved Wooden Nameplate Made With Strong Sheesham Wood
Sheesham wood is a hardwood that is commonly used for furniture and home decor. It has a beautiful grain, which makes it an attractive choice for engraving.
Sheesham wood has many qualities that make it an excellent choice as an engraved nameplate:
Durability – This wood is naturally resistant to insects and rot, so your nameplate will last longer than other types of wood.
Workability – Sheesham is easy to work with because of its smooth finish and straight grains, which makes it easy for you to create whatever design you want!
Availability – The availability of Sheesham varies depending on where you live; however, if there isn't any nearby then we can always order some directly from our supplier so don't worry about being unable to get what you need!
This Sheesham Wood Nameplate Is Unmatched With Both Affordability And Quality
Sheesham wood is a natural material, so it has its own unique beauty. The grains in each piece of wood reflect the character of the tree from which it came. This makes each product truly one-of-a-kind and gives you an added sense of history when using it in your home or office space.
In addition to being beautiful, Sheesham wood is also strong and durable–making it ideal for everyday use. Sheesham can withstand moisture without cracking or warping over time.
An Elegant Touch To Your Style To Your Home And Office From Hitchki
Hitchki is a leading name in the industry and offers products that are made from the best quality materials. The company has unique designs and styles, making it easy for you to find something that suits your needs. Hitchki also offers customized products, so if you're looking for something different than what's on offer, they will work with you until it meets all of your requirements.
Hitchki offers a wide range of products including wooden nameplates, wooden signs, and plaques as well as acrylic signs & display boards – perfect for any home or office!
Conclusion
We are the leading manufacturer and supplier of customized wooden nameplates in India. Our products are designed by experienced professionals and they use the best quality raw material for making these nameplates. The company also offers customized wooden nameplates for offices, schools, and homes at affordable prices. You can choose from various designs available on our website or ask us to design something special according to your needs at Hitchki.