HItchki presents a new hut shaped wooden ganesha name plate for your house. A lovely house is a home that reflects the personality of its owners. What does your home say about you? If you are renovating or building a new house, why not include some personalized touches with an adorable wooden nameplate for Ganesha? This simple design can be used as a wall hanging or mounted on a door frame or mantelpiece. It will make an attractive addition to any room and show off your love of Hinduism!
A Handcrafted, Hut-Shaped Wooden Ganesha Name Plate
A Handcrafted, hut shaped wooden ganesha name plate. A fantastic way to welcome your guests in style, this hut-shaped name plate is beautifully crafted from wood and handpainted with a natural mud finish. Fitting for any home or office, this wooden nameplate adds an elegant design element to any space while providing a distinctive flair.
The outside of the hut symbolizes the world we live in while its inside represents that which we carry within us – our true selves. This special piece will become a constant reminder that you are living your life with grace and wisdom just like your Ganesha idol!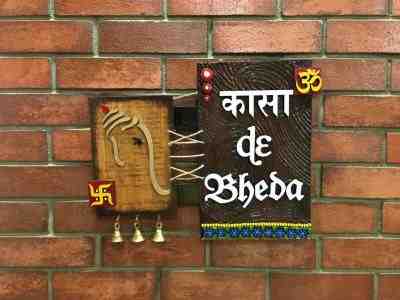 This Hut Shaped Wooden Ganesha Name Plate Is Made From Wood And Is A Special Gift For New Home
This is a wooden name plate in the shape of a hut specially made to enhance the beauty of your new house. This can also be used as a gift for any occasion and can be engraved with any message or name you wish to give it.
This is an original product that has been designed by our team of craftsmen and women who have years of experience in designing these products, so you know you will get something unique created just for you!
It Comes With A Hanging Mechanism At The Back To Hang
This Ganesha name plate is designed to be hung on the wall. It comes with a hanging mechanism at the back to hang.
It is made from wood and comes in different sizes.
This will enhance the beauty of your New house.
The Ganesha name plate is an excellent way to share your love for Lord Ganesha with others. This wooden plaque comes with a smooth finish and it can be used as a home decor item or a gift item. It will enhance the beauty of your new house/office/room/home and make it special.
Now get a unique Nameplate for your new home/office.
A nameplate is a symbol of pride, respect, tradition, and heritage. Our nameplates are designed to add a personalized finishing touch to your home or office space. The Name Plates can be made using any kind of wood including Sheesham, Teak, Neem, or Pine. We have various designs available in a variety of sizes so you will always find one that suits your requirements perfectly.
Conclusion
So, if you are looking for a unique way to enhance your new home/office, then this nameplate is the perfect gift. Visit Hitchki.in now.