In the world of home decor, spirituality meets artistry with the "Krishna Theme Marble Resin Nameplate." This isn't just a nameplate; it's a harmonious blend of divinity, creativity, and a warm welcome that adds an aura of grace and serenity to your living space.
Spiritual Harmony: Krishna Theme Marble Resin Nameplate
Lord Krishna's Divine Presence: At the heart of this nameplate is an intricately crafted depiction of Lord Krishna, an embodiment of love and wisdom. His presence on your nameplate brings not only his divine blessings but also an aura of serenity and positivity to your home.
Artistic Beauty: The use of marble resin in the nameplate design adds an artistic and timeless beauty. It's more than just a name; it's a piece of art that resonates with the beauty of divinity.
Personalization: Make this nameplate uniquely yours by adding your family name. This custom touch transforms it from a decoration to a symbol of your faith, a unique piece of art that reflects your devotion and spirituality.
A Spiritual Welcome: Every time you and your guests approach your home, you're not just greeted by a nameplate; you're welcomed by the divine presence of Lord Krishna. It's an invitation to a world of grace and serenity.
A Spiritual Oasis:
Your home is more than just walls and furniture; it's a place where you find solace and where your spirituality finds expression. The Krishna Theme Marble Resin Nameplate is more than decor; it's a connection between the earthly and the divine. It reminds you that your home is a haven of grace and serenity.
Each time you cross your threshold, you're not just greeted by your name, but by the radiant blessings of Lord Krishna.
Symbol of Love and Wisdom:
Lord Krishna, the central figure of this nameplate, is revered for his teachings of love, wisdom, and devotion. His presence on the nameplate serves as a constant reminder of these values in your life. It's not just a decorative piece; it's a source of inspiration, encouraging you and your family to live a life filled with love, knowledge, and spirituality.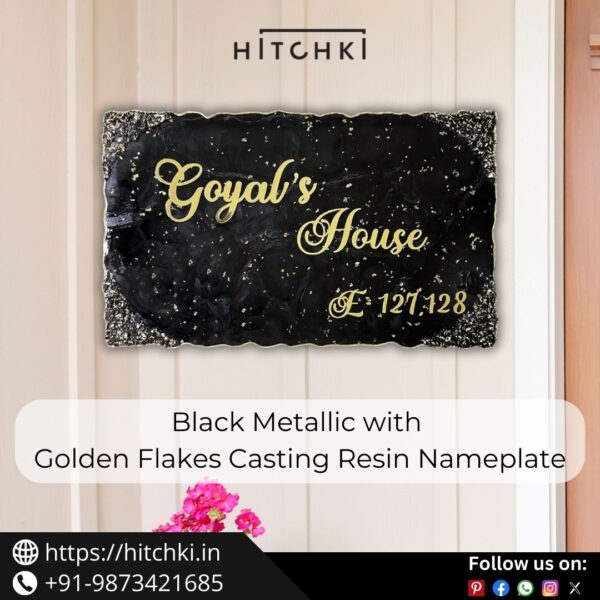 Conclusion:
Your home is a canvas for your spirituality, and every detail should celebrate your devotion. The "Krishna Theme Marble Resin Nameplate" is not just decor; it's an affirmation of your faith and a warm welcome for all who enter your cherished abode.
Turn your entrance into a portal of spiritual harmony. Watch as your home resonates with the presence of Lord Krishna, and every arrival becomes a moment of grace and serenity.
Welcome to Hitchki, a world where divinity and art harmoniously coexist, casting an aura of elegance over your living space.