Hitchki, a nameplate provider, is now offering customized nameplates at affordable prices. We offer a wide range of wooden nameplates online and all our products are made of good quality material. You can also get your own custom-made wooden nameplate online by choosing one from our various collection options.
Are You Looking For Customized Nameplates? Hitchki Is The Place
Are you looking for Customized Nameplates? Hitchki is the place to get your personalized nameplate. We offer a wide variety of options to choose from. Our nameplates are perfect for homes, offices and businesses as well as special occasions and events like weddings, birthdays, graduations, baby showers and more!
Customized Nameplates At Most Affordable Price Online
Customized nameplates are a great way to personalize your home, office or car. If you want to add some personality while maintaining a professional look, Hitchki is here to help. We can give you personalized plates for cars at an affordable price with our wide range of options. We offer the best custom nameplates at the most affordable rate online with fast turnaround time and high-quality products.
Hitchki offers customized nameplates for trucks, cars, boats and motorcycles so that each one gets its own identity in style.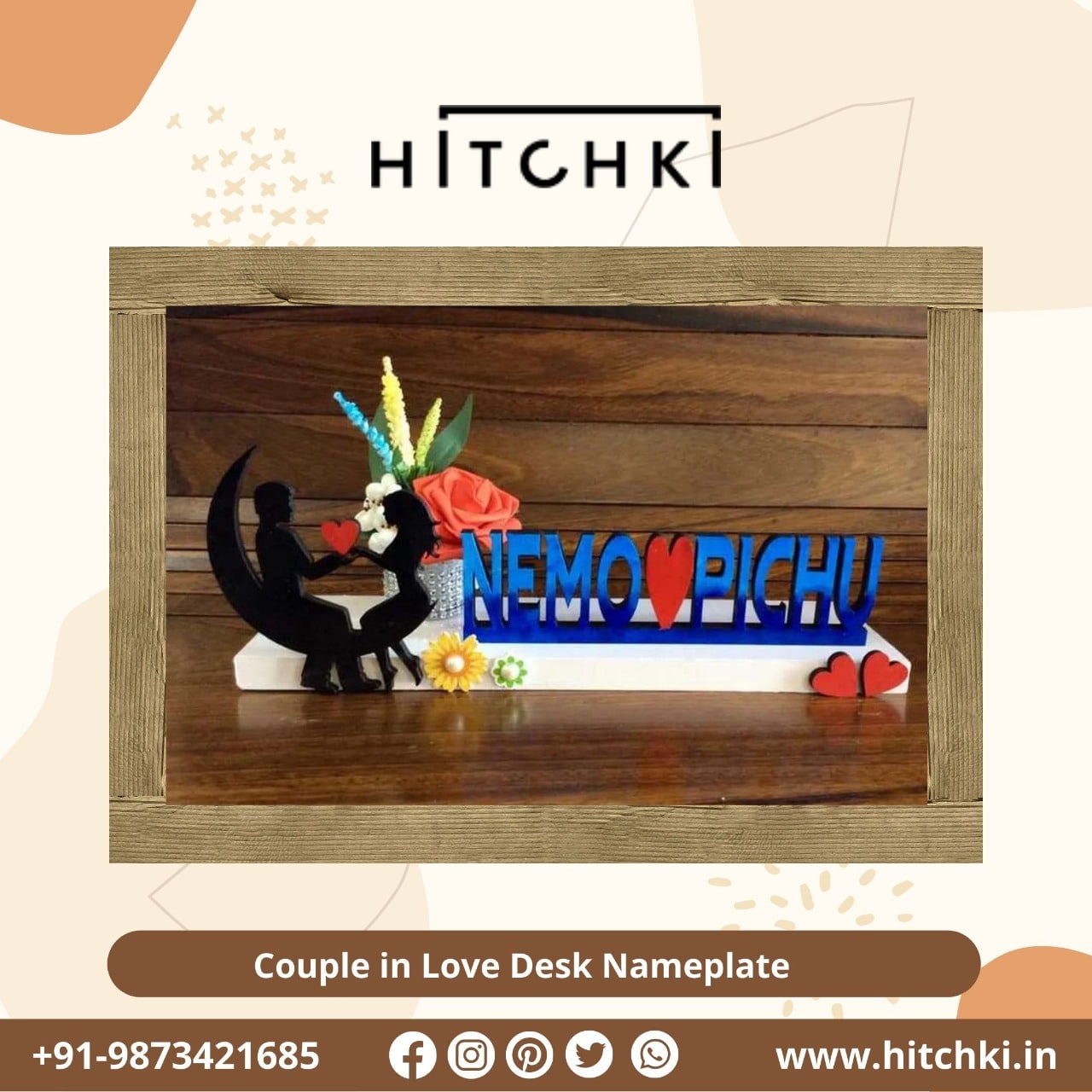 Customized Hut Shaped Family Nameplate
We are offering a customized hut-shaped family nameplate to our customers. The wooden nameplates available at Hitchki are designed by professionals who understand the importance of aesthetics and quality. Moreover, we have an experienced team that can also design these nameplates according to your requirements.
These wooden hut-shaped family nameplates can be used to show the names of your relatives in a unique way! These can be hung on your wall or even outside your house so that people passing by could know who belongs there!
To know more about our custom-made wooden hut-shaped family nameplates click here
Nameplate For Your Home, Shop Or Cafe At Hitchki
At Hitchki, you will find a wide range of wooden nameplates that can be used for homes, shops and cafes. We have different sizes and designs to choose from. You can also customize your own wooden nameplate with any design or font of your choice.
We Offer A Variety Of Wooden Nameplate Online
Hitchki is the place where you can find a variety of nameplates online. We offer customized nameplates at affordable prices.
We offer wooden nameplates online in different shapes and sizes. You need to go through our website and select the one that suits your requirement best. The best thing about our wooden nameplates is that they are available in every size and shape, so no matter how big or small your business is we will provide you with a perfect solution for it!
Conclusion
To sum it up, we hope that you have found this post helpful and informative. We're here to make your life easier with our product and service offerings, so don't hesitate to reach out if there are any questions or concerns. Contact us now at Hitchki.in