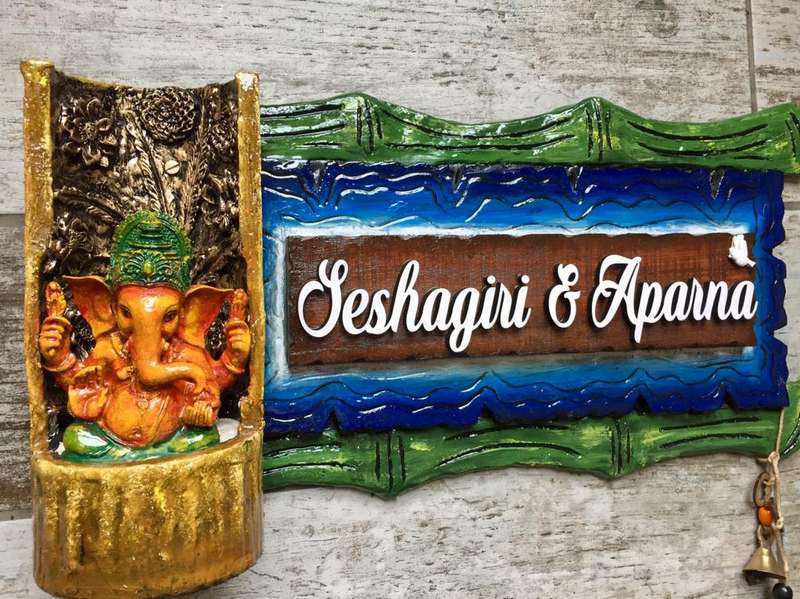 Hitchki offers you a wide range of customized nameplates specially made of wood, clay, and handcrafted with beautiful decorative items. At Hitchki we offer India's largest collection of custom makes nameplate designs online – with materials ranging from acrylic, ceramic, mirror, glass, marble, steel, stone, wood, etc. Choose the perfect personalized and modified nameplate for your home from an extensive range of designer nameplate designs. Having served many homes, offices, flats, apartments, bungalows, villas, schools, etc. our nameplate makers are best suited to fulfill all your nameplate ideas and customization.
We at HITCHKI totally salute your vision of having your own home, flat, apartment, villa, bungalow or any kind of residence or place of office, work or even schools and rooms. We congratulate you on accomplishing your dreams and desires. Well, as we are modifying and customized service providers, we will strive to do our bit, to make your experience even better. To put our words in action, we have designed some beautiful name plates that can be used to hang in front of your home. There is not just one place that has to have personalized name plates, as in the door and the gate, both needs to have them.
Customised Gifts for Wedding, Couples or Friends
Gift your Friends Something Out of the Box and Imagination
If you want to give your friends or relatives something heart-warming and out of the box, then this would be a great gift item that you could give. Also, why just porch when you could have a nameplate for the door for your bedroom and your kid's room as well. It is a great way to decorate and bring some fun and frolic to your kid's room.
Also, kids and family members alike who like to root for their favourite team; this would be a really engaging theme that you could go for. Also, this would be the best way by which you would be able to encourage the team of your choice.
Customized Nameplates Design for New Married Couples Gift
Another exciting aspect where you would be able to gift nameplates would be to the new married couples. We at Hitchki make sure that you are getting the only genuine product when you are purchasing from us.
Hitchki is never afraid when it comes to helping you find the right nameplate for your home that you would be able to use. We are never afraid to take that extra step in case you want speedy delivery with customised service.
Also, without customised Hitchki item, you would be able to team up with us to make your relatives appreciate the look of your home as well. You could give it as a gift and surely the person would be glad to receive it.
We have probably the best structures with regards to ensuring that your solicitations are satisfied. Likewise, with us, you could be guaranteed that you would get solid administrations at extremely moderate costs. Along these lines go for entryway name plates online with us. Utilize Stylish Nameplates for Home to Highlight the Front Door of your Home
Stylish Nameplate for Home Near Me
Your home is your ultimate place where you get to relax and be yourself. And that begins with the entrance of your home. Thus, this is the reason why we at Hitchki provide you with great personalized nameplates. From our site, make your home look personalized and unique, and you would be able to impress more than your neighbors. From good quality material, you would only be getting the best. Grab the attention of the onlookers, and you would definitely be happy when you see that your home looks different than others. We have customized and with different themes as well nameplates which would show your taste to the outer world.
Best Personalised Nameplates at Hitchki
It is your sanctuary, and people would get an idea what your home and place of relaxation looks like. Hitchki provides you with some of the best positive vibes nameplates. If you are looking for something unique and designer nameplates, then check out from us the personalised nameplates with names.
An entrance speaks a lot about your home, and it is high time that you start making sure that your home looks beautiful from the outside as well. It says a lot about the people who are staying inside the house. It would give an idea regarding what you like and how you like to decorate.
With Speedy Delivery We Do all Kinds of Nameplates Delivery
Online shopping has made it really easy for you to choose the gift that would show how much you love and respect the members of your family. And how much you cherish or value their presence in your life.
If you are looking for some great gift options, you would find it with us at Hitchki. You also do not have to venture out and buy gifts but get them delivered to your home. You would get genuine products from us which go through a quality check before then have been dispatched for delivery.
Best Help for Door Nameplate Designs
Our team is always there and puts a lot of effort to provide you with your desired customized nameplates. The nameplates are both presentable and thoughtful as well. Therefore hurry up and get your customised nameplate from us and surprise your loved ones or add a classic masterpiece to your home. Spread smile and make your home look exciting and fun with our products.
Satisfaction Guaranteed!
Buy Wooden Nameplates Online at Hitchki.in
Printvenue has a great collection of Wooden Nameplates that can be easily personalized just the way you want. Nameplates add an altogether different look to the entry of your home décor, certainly they leave a pleasing effect .
Designer Name Plates – Customize Online at Best Prices
Name plates become an essential part of your home decor and also tend to lay an amiable impression on the onlooker. Explore a collection of customized and designer name plate and order online from any part of India.
Delivery all Around the Mazor Cities
We deliver across India, including the major cities like Delhi, Noida, Gurgaon, Faridabad, Ghaziabad, Bangalore, Chandigarh, Lucknow, Mumbai, Ernakulam, Navi Mumbai, Nagpur, Pune, Chennai, Hyderabad, Indore, Jaipur, Bhopal, Jalandhar, Ahmedabad, Gujarat, Cochin, Kolkata, Mysore, Udaipur, Patna, Surat and many other parts of India.