Wooden name plates design for the home must be very stylish and attractive because a wooden name plate is the first thing that everyone sees. Hitchki makes such a beautifully designed wooden plate for home, offices, house, apartment, doors, and for anything you want. Handmade wooden name plates look so beautiful and give a traditional look to your wooden name plates. Hitchki is the best seller of handmade wooden name plates in India. Every home needs a wooden name plate and it has to be best designed because it shows your identity. Hitchki can design any design and any style of name plate for you. You can feel free to tell your imagination. Wooden name plates design for home by Hitchki are unique and lovable by all.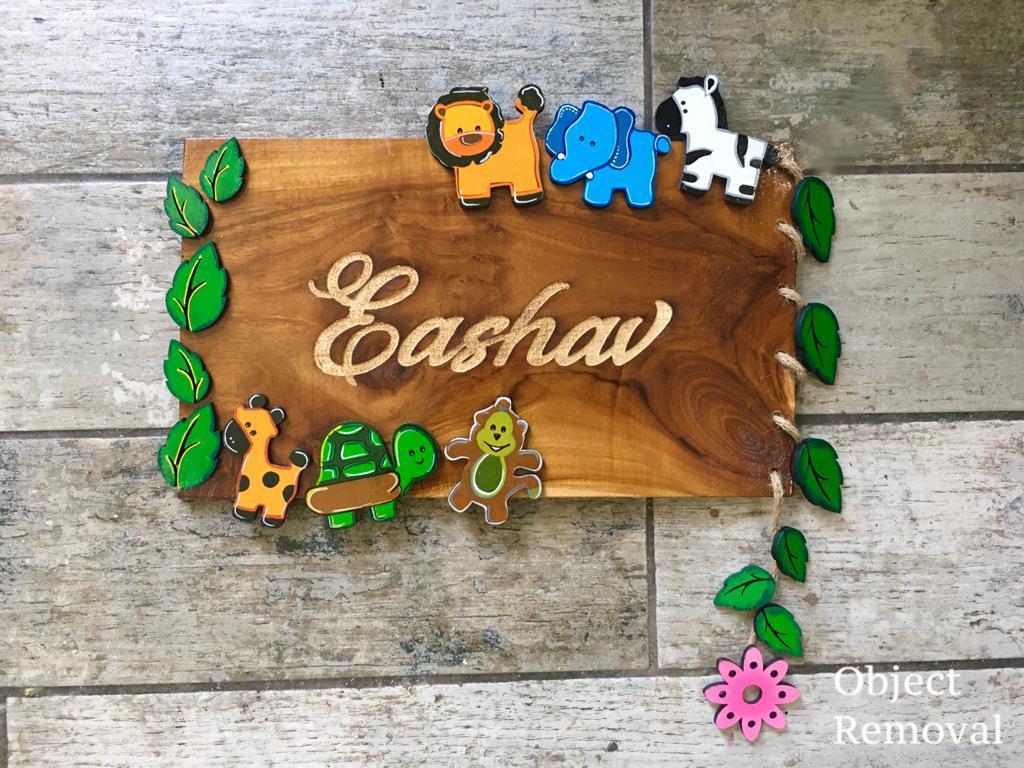 Kids Birth Capture Engraved Wooden Nameplate
This is a beautiful nameplate for kids, we added a cloud with birth info to make it memorabilia. The name is engraved in wood and painted with golden color. Animals and other cutouts are hand-painted. This can be a great gift for newborns or any age of the kid. Teak wood's rich look is giving a distinct look to the whole design.
Size- 14×10 inches ( hanging separately)
Material- Teakwood base, MDF wood cutouts, jute string

Wooden Name Plate Designs for Home
Designs for home name plates in wooden can be of so many different designs and can be so creative. Hitchki makes so creative and unique designed wooden name plates. Their some of the wooden name plates designs names are the wooden Hut family name plate with faces, Ganesh Hut wooden house name plate, Zig Zag twin plank natural wood name plate, Sun and Cloud wooden name plate, Glow Jar Wind Chime name plate, Wooden hut family name plate, Beauty of Spring wooden name plate for the door, Huge Name nameplate for a new home, Good Vibes Only wooden name plate, Designer Plywood name plate for Bungalow Garden, Flower and Om wooden name plate, Ethnic om wooden name plate, Hanging hearts wooden name plates, Pebble and Leaf wooden name plate, Mountain Hut wooden name plate, Couple Statue wooden name plate, Dream House wooden name plate, Criss Cross Ganesha wooden name plate, 3 in 1 Designer wooden name plates, Buddha in the Woods wooden name plates and so many more.

Wooden Name Plate for Home

Handmade wooden customized name plates for home is something everyone wants to be perfectly suited for their home-based theme or perfectly suitable for their home main door. Hitchki provides you the finest and beautifully designed wooden nameplates across all over India with the best quality at the best prices. They use the best quality material in making wooden name plates for home so that it will remain the same for so many years. If you want to buy designed wooden name plates in India, you should definitely go for Hitchki.