HITCHKI provides you the best useful housewarming gift items online in India. We offer the best quality of nameplates, Printed Chocolates, Canvas, Keyholders, Tea lights, Wall decor, Photoframes, etc. Nameplates in many varieties like Engraved nameplates, wooden nameplates, Kids nameplates, Nameplates for Indian armed forces, etc. In housewarming, you tensioned about the gift Hitchki is the platform that gives you more ideas about the gift in one place. Our brand is all about passion for art and creating handmade stuff. We are famous for our handmade products and their quality.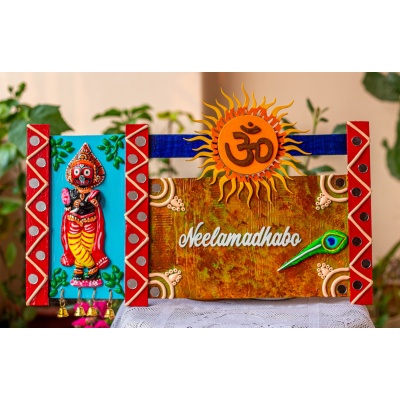 Hand Moulded Wooden Nameplate
This is a bright, colorful wooden nameplate. The Jagannath idol made here is totally handcrafted. We can customize any other idol instead of that. Peacock feather made it is also handcrafted. We have also given a little touch of lippan art in this. The sun and names are laser cut of MDF material. Two back hooks are attached. This nameplate will definitely give your entrance an amazing look.
Size-19/9.5″
Useful Housewarming Gift (Wooden Nameplates)
HITCHKI Customized Wooden nameplates with photos give an excellent and exceptional look to your home. We have similarly so a wide scope of an unprecedented Best Customized Handmade Wooden Nameplates with Photos plan for the home. Hitchki makes so charming and splendid wooden nameplates with photos that truly look esteem admirable, astounding, and the best.
Housewarming Gift
Keyholder: It's a unique idea about a useful Housewarming gift. it gives a good look at your wall and the key is also arranged in one place.
Tea Lights: Candles and T-lights are the best gift ideas when it comes to festive occasions and it is also a delight and divine symbol of our pathetic love towards God or our loved ones. Gift it on Housewarming. It will definitely glorify your relationships with your friends and family members.
Wall Decor: Embroidery Wall Hoops and Embroidery Wall Clocks designed for your wall decoration. Hoop arts is a new art, traditionally, embroidery to be displayed on the wall would have been stretched and framed over a board or canvas, and the hoop was only used during the stitching.